On the first day of NRF 2022, retail experts talked about how retailers must become adaptable, agile, and flexible. But how can they achieve this? The best way to understand this is to learn by real-world examples.
In the previous article, we discussed the top 4 retail trends at NRF 2022: Retail's Big Show and touched on how major retail chains in the U.S. adopt innovative technologies to meet the unexpected future. In this post, we will dive deeper into the case studies of the top 3 retailers, namely Walmart, Target, and Macy's, to see how they navigate digital transformation for their business leveraging technologies:
Walmart rolled out universal search and checkout in their app - what does it mean for the customer experience?
How Target is using curbside pickup services to drive growth.
Explore how Macy's unlocks highly personalized experiences in their shopper app.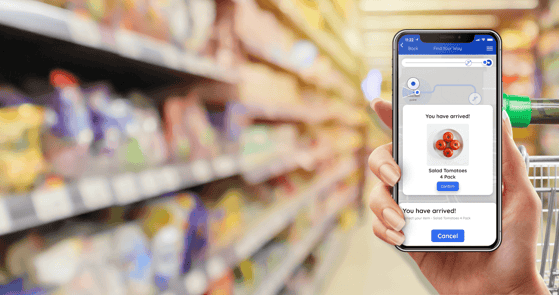 For retailers, having an omnichannel retail strategy in place is no longer a nice-to-have but a must when planning the future of their business.
Case 01 - Walmart: Building a true omnichannel experience by merging its two shopping apps into one
Walmart combines its Walmart Grocery and Walmart App to create a more seamless shopping experience for its customers.
Previously, Walmart shoppers needed to choose to build their basket between the grocery platform (orange app for pickup and delivery services from grocery stores) or the e-commerce app (blue app for delivery services from walmart.com). Though the two apps have brought Walmart significant e-commerce growth during the pandemic, the separated platforms mean that Walmart could not build a truly seamless omnichannel retail experience for its customers.
Last year September, Walmart announced merging its two shopping apps into one, allowing its customers to search and build their shopping basket across both e-commerce and grocery store platforms and enabling different locations order fulfillment to maximize its fulfillment order. This allows its customers to shop and checkout using one single shopping platform, creating a frictionless shopping experience throughout the customer journey.
Learn how retailers are delivering world class experiences for their customers with Pointr's guide to Store Mode.
As one of the biggest retail giants, Walmart constantly explores innovative technologies that can help improve shopping experiences for its customers. Over the years, Walmart has invested heavily in new technologies, including location services, with the aim to offer an easier way for its customers to make purchases across the platforms and navigate their way to their products when shopping in-store.
How location technology can add value in operation optimization:
According to research from Harvard Business Review, 73% of consumers use multiple shopping channels. For retailers, having an omnichannel retail strategy in place is no longer a nice-to-have but a must when planning the future of their business.
An interactive digital map and indoor positioning (blue dot) can add great value to a mobile store guide by helping shoppers find the products on their shopping lists and facilities when shopping in-store. Retailers can also leverage location services to offer their store associates a more precise overview of the product locations and inventory information. Features like this can improve services such as pickup services, checkout assistance, stock replenishment, or emergency support, thus enhancing customer experiences as a whole.
Target: Enable seamless shopping experience with enhanced pickup and delivery services
As one of the biggest grocery retailers in the U.S., Target has invested heavily in its mobile app, intending to optimize its customer experiences. Back in 2014, Target's app launched its indoor map to showcase its product and aisle locations. To provide more enhanced shopping experiences for its customers, Target has taken a step further to enable instant pricing information (via scanning product barcodes), stock availability check, click & collect, and curbside pickup in its shopping app.
In 2017, Target acquired Shipt, a startup that provides same-day groceries delivery services, in response to the growing demand for fast delivery, pickup services, and competition from Walmart and Amazon-Whole Foods.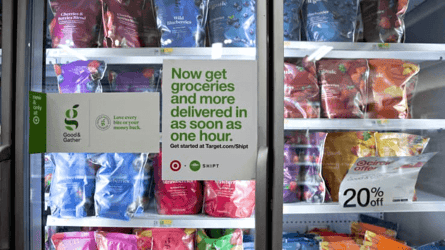 A sign in a Target store in Chicago, advertising Shipt, which Target acquired in 2017, offering same-day grocery delivery service. Daniel Acker | Bloomberg | Getty Images
Target's vision to build a seamless shopping experience for its customers has borne fruit. With more than 15 million downloads worldwide, Target's shopping app has received overwhelmingly positive reviews from iOS and Android users.
How location services can enhance pick up services for grocers:
The "Drive Up" service (curbside pickup) has become one of Target's most popular pickup options in the past two years. For pickup services such as this, indoor navigation that can transition between indoors and outdoors can help improve the shop associates' work significantly. This can help retail workers find their way around huge store locations, especially those with huge parking lots and multiple collection points. Location services such as proximity notifications can help notify the staff when the customers have arrived at the store, allowing the shop associates to bring the right orders to the right place, at the right time, for the right person. By further improving their shopping experiences., Target has been able to win its customers' loyalty and achieve a 13.3% year-on-year increase in revenue.
Macy's: Location-enabled shopping apps for highly personalized customer experiences
Macy's launched its revamped shopping app, aiming to make the VIP shopping experience available to all its customers.
Macy's, one of America's most famous retailers, has developed a shopping app to elevate the shopping experiences for its customers. By turning on the in-app location services, the shoppers can get 1-tap access to the Price Check function for any in-store items and find their directions using the Store Maps feature.
In October 2021, Macy's launched its revamped shopping app. The new app features improved functionality such as immediate price check, in-store digital maps, personalized shopping list for favorite items with promotion alerts, improved in-store checkout and return process, and many more.
The personalized item lists are powered by AI, capable of creating relevant and value-added search experiences with shopping recommendations for users' customized styles. Macy's aims to create a pocket-sized private shopping assistant for their customers, making the VIP shopping experiences available to all their customers.
How location technology can create a highly personalized shopping experience:
The first step of creating a personalized shopping experience for a huge department store chain like Macy's, is to develop interactive and easy-to-use digital maps, that allow its customers to browse the departments and shop categories on each floor within a given store building. However, manual mapping for buildings at the scale of Macy's could take months, even years; this wouldn't work, especially for venues with constantly changing layouts like retail floors. They need a mapping platform that is scalable enough to efficiently map and manage its thousands of store locations across the U.S.
With a scalable mapping platform that can create and manage thousands of maps across any store location, Macy's can instantly enable location services via Bluetooth beacons or smart lighting. And allow its customers to access services like interactive store maps, smart navigation, immediate price, and stock information, personalized search, and better click-and-collect services within any given store in the country.
Parting thoughts for retailers: an adaptable mindset is essential for survival
As 2022 begins, we can see the digital transformation for the retail industry is inevitable, and the relationship between retailers and customers is shifting, meaning the technology and infrastructure retailers need to build and maintain are also evolving.
Retailers should have a more adaptable mindset to invest in digital technologies to adapt to the unexpected. Companies that have the vision to plan for the future are the ones that survived and gained more business opportunities in this game. For Walmart, it means simplifying its shopping platforms to create a truly omnichannel service; for Target, it means enhancing its customer's experiences by investing in curbside picking and fast delivery services; for Macy's, it means creating highly personalized shopping experiences to improve customer loyalty.
Location technology can help retailers up their game and prepare for the unknown. By enabling digital wayfinding, customers can search for and navigate their desired items without asking for assistance from the store workers. Integrating digital maps and positioning systems into the store associates' app allows retail staff to see the inventory locations. This allows the store associates to track and navigate the pallets or collection points efficiently when the demand for pickup services is high. This can also help newly trained staff quickly be aware of the situation and add value to the team.
As the 3 case studies show, retailers who can see the value of adopting innovative technologies and are willing to invest are the ones who will likely thrive.
The future of retail is here, and now it's your chance to transform! Contact our team for a quick demo or, alternatively, check out how we helped a major department store chain digitize its retail outlets across 2,000+ locations in the U.S.
Related topics: