The retail sector has been dramatically impacted by the COVID-19 outbreak.
In this article, we examine the performance of key players in retail, including Walmart, Ocado and Instacart to answer the following questions:
How have retailers been affected by this crisis?
What were the challenges in scaling online & offline services to meet rapidly changing customer demands?
What changes and technologies should retailers adopt in the short and long term?
Finally, we examine location technology and how companies like Pointr will play a vital role in enabling retailers to adapt to a new future.
How have retailers been affected by this crisis?
While the coronavirus has already temporarily transformed our daily lives, it will also have significant long-term implications for supermarkets and other grocery retailers. The global grocery retail sector has seen an unprecedented increase in sales, both online and offline and the crisis has highlighted the technological inflexibility of (at least some) retailers when adapting to rapid changes in customer behavior.

Brick & mortar retailers have found themselves on the frontline of the COVID-19 pandemic as panic-buying swept the world. Both the volume of in-store visitors and average basket sizes increased dramatically, driving the monthly sales revenues up by over 30% in some markets1 and wiping shelves clean.

Online retailers also found themselves unable to cater to the increase in demand after enjoying a boom in the number of downloads of grocery shopping apps (Walmart's monthly app downloads more than doubled in March alone, and has become the No. 1 ranking shopping App in the US, surpassing Amazon by 20%2).

What were the challenges in scaling online & offline services to meet rapidly changing customer demands?
While large supermarket chains with broad geographic coverage, such as Walmart and Tesco, reported that they can scale omnichannel product availability easily by treating supermarkets as both offline shops and online warehouses, they needed to recruit vast numbers of staff to stack shelves, pick products and deliver them to customers on-time.

Walmart


Kroger


Target


Tesco


Ocado


Instacart

Region


USA


USA


USA


UK


UK


USA

Business Model

Online & Offline

Online & Offline

Online & Offline

Online & Offline

Online supermarket

Online platform

2019 Revenue

$514 Bn

$121 Bn

$75.6 Bn

$68 Bn

$2.28 Bn

$0.6 Bn

Number of Employees

(2019)

1,500k

450k

360k

450k

15k

200k

Hiring Plans for COVID (% increase)

150k

(10%)

50k

(10%)

N/A

45k

(10%)

< 1k

(<10%)

300k

(50%)

App downloads

Feb 2020

1,500k

500k

25k

400k

110k

1,600k

App downloads Mar 2020

(% increase)

2,400k

(160%)

Undisclosed

53k

(112%)

Undisclosed

Undisclosed

(online orders up 10x)

3500k

(218%)

Key COVID Challenge

Staff shortage

Staff shortage

Staff shortage

Staff shortage

Warehouse shortage

Staff shortage & IT issues
Sources: Media reports, Sensortower, Statista
Conversely, online retailer Ocado has found its asset-heavy business model has left it unable to meet demand due to a shortage of warehouse space. In early March, the company was forced to suspend all new orders via its website and app in a bid to manage the surge in demand. According to Duncan Tatton-Brown, Ocado's CFO, "The biggest constraint is not the number of vans of drivers, it is the capacity in our customer fulfilment centers. I would love to wave a magic wand and have the Erith [warehouse] at 200,000 orders per week, but life isn't like that."3
Even asset-light retail platforms, such as Instacart and Shipt, which enable users to order products from traditional stores like Walmart, Target and Office Depot, have encountered challenges while scaling. "The customer demand we expected over the next two to four years has happened on the Instacart platform in the last two to four weeks," said Apoorva Mehta, Instacart's founder and CEO.4 Products bought through these platforms are picked from local supermarkets and delivered to the user's door by gig-economy 'shoppers' who are paid per order. This business model offers these platforms the flexibility necessary to scale rapidly simply by recruiting more freelance shoppers to fill orders. Instacart has, however, faced significant customer anger arising from IT issues (such as offering non-existent delivery slots and missing items in orders) and 'shoppers' striking due to low wages and lack of protective equipment.
In short, the coronavirus has simultaneously enabled retailers to reach vast new consumer audiences through digital channels, while also exposing the technological and logistical challenges due to rapid changes in customer behavior. Consequently, executives such as Tesco CEO Dave Lewis still expect the majority of grocery products to be purchased in-store during and following the crisis. "Between 85% and 90% of all food bought will require a visit to a store." Lewis said.5 While no retailer has emerged from this crisis unscathed, all have begun implementing improvements to online and offline offerings in order to meet new customer requirements.
What changes and technologies should retailers adopt in the short and long term?
In the short-term, traditional supermarket giants, such Walmart and Tesco, have implemented several emergency policies to cope with the surge in demand from COVID-19 induced panic buying. These include a push to increase their total workforce by 10% each with temporary workers, a limit on the number of items that can be bought on certain products (e.g. pasta, toilet paper), the prioritisation of 'high-vulnerability' customers with dedicated opening hours and online delivery slots, and a huge marketing campaign to ask customers to shop responsibly. These efforts have already begun to restore consumer confidence in food supply chains and some retailers believe the worst of the panic buying is over.6
Indeed, retailers are already looking to parts of the world where the most restrictive aspects of the crisis have started to relax. When asked about the main impact of the current crisis on his business, Dr. Wenzhong Zhang, the chairman of Wumart, one of China's leading retailers responded "we believe the coronavirus crisis has brought forward the timeline for adoption of omnichannel grocery services, such as remote ordering and pickup, by at least one year."7
The main long-term impact of this crisis for grocery retailers is two-fold:
1. Retailers which combine new technologies to achieve operational excellence with a large physical footprint are likely to emerge as the dominant players.
Traditional supermarket chains are vast entities operating thousands of stores and employing hundreds of thousands of people. Retailers should accelerate investment into technologies that can improve operational efficiency, customer-responsiveness and reduce costs.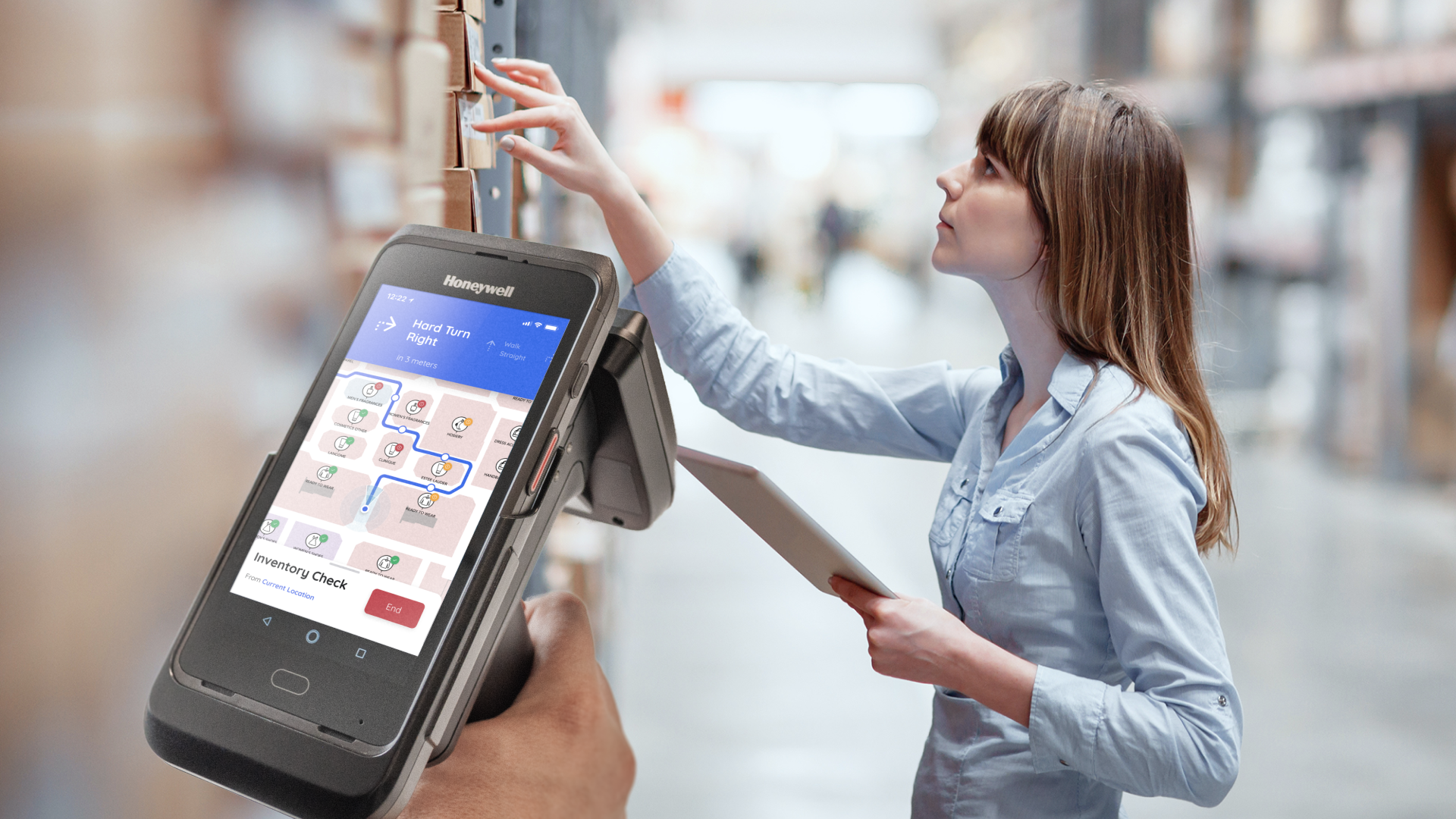 Pointr is working closely with handheld manufacturers such as Honeywell and Zebra to revolutionize retail operations with digital store maps, optimized routing for shelf stacking, and click & collect services,. This addresses problems faced by both retailers and customers on a daily basis as shown below in the recent app review for Instacart.


Fig 1: Recent review of Instacart shopper app by a 'shopper' Nick Workman
New recruits at supermarkets equipped with this kind of technology can find any product in-store instantly. Pointr's Deep Location® Platform combines real-time location data with digitized store maps containing product information to enable new recruits at supermarkets to find any product in-store instantly. This has been shown to improve "store picking" speed by over 25%, translating into huge savings for its retail customers.
2. The recent boom in online app downloads presents grocery retailers with a vast opportunity to win new customers, both online and offline, with innovative omnichannel shopping experiences.
Once the pandemic is over, supermarket chains expect most users to go back to traditional, in-store shopping. Today's climate is a wake up call for retailers to begin blending the offline and online shopping experience. According to the FMI-Nielsen 2020 report (written before impact the pandemic was fully appreciated), online grocery sales were already predicted to reach almost $150 billion and capture 30% of all omnichannel grocery retail by 2025.8 Since the outbreak of the virus, almost 60% of US consumers have started to use an online grocery service, demonstrating a huge shift in consumer shopping preferences in a very short period of time.9
Over the previous four weeks, digital grocers have reached consumer segments which were previously considered unreachable. This boom in digital adoption gives brick & mortar retailers huge potential to interact with even more customers, enabling highly personalized offers, real-time in-store assistance and consumer insights previously available only to e-commerce behemoths such as Amazon.
Pointr's real-time location solutions enable app users to digitally interact with their physical surroundings. By integrating location technology into a mobile app, retailers can engage directly with customers and customers can learn more about products and services in-store.
In future articles, we will examine how omnichannel shopping can improve the brick & mortar shopping experience and boost average basket value. We will also look at how different retailers are accelerating the roll-out of Click & Collect solutions following this crisis.
Authors: Paul Dupont & Eva Cheng
...
About Pointr
Pointr, the Deep Location® company, is a global technology leader in real-time location for smart venues.
We digitize venues, enabling them to create immersive location experiences and to improve their operations. We work with major international customers in aviation, retail, hospitality and smart workplace.
Built by a team of computer scientists and fuelled by 6 patents, our Deep Location® platform provides location-based services such as mapping, navigation, location-based marketing and powerful location analytics. We provide a full service and we accompany our customers at every step.
To date, Pointr is deployed across 18 countries across North America, Europe and Asia and powers geolocation for 1 billion people every year. We have offices in London, the US, Istanbul, Dubai and local partners in Hong Kong and Singapore.
If you would like to learn more about how location technology can transform your retail business, please contact us at www.pointr.tech
...
References:
1. "Tesco defends £635m dividend payout after coronavirus tax ...." 8 Apr. 2020, https://www.theguardian.com/business/2020/apr/08/tesco-sales-up-30-per-cent-because-of-pre-lockdown-stockpiling-coronavirus

2. "Walmart Grocery app sees record downloads amid COVID-19 ...." 9 Apr. 2020, https://techcrunch.com/2020/04/09/walmart-grocery-app-sees-record-downloads-amid-covid-19-surpasses-amazon-by-20/

3. "Online grocers fail to shine during biggest test yet | Financial ...." 28 Mar. 2020, https://www.ft.com/content/6c9c2378-5904-4cad-9c52-304157465cb8.

4. "NYC Grocery Delivery: Instacart Adds More ... - Eater NY." 8 Apr. 2020, https://ny.eater.com/2020/4/8/21213463/instacart-grocery-delivery-app-updates.

5. "Coronavirus: Tesco tells people to visit stores to get ... - BBC." 8 Apr. 2020, https://www.bbc.co.uk/news/business-52211912.

6. "Coronavirus: Aldi, Morrisons, Waitrose and Asda lift ... - BBC." https://www.bbc.co.uk/news/business-52102906.

7. "How China's consumer companies managed ... - McKinsey." 19 Mar. 2020, https://www.mckinsey.com/industries/retail/our-insights/how-chinas-consumer-companies-managed-through-the-covid-19-crisis-a-virtual-roundtable

8. "Online grocery forecast increases to $143B by 2025 | Grocery ...." 3 Feb. 2020, https://www.grocerydive.com/news/online-grocery-forecast-increases-to-143b-by-2025/571581/

9. Coronavirus: first-time online purchases by gender U.S. 2020 ...." 1 Apr. 2020, https://www.statista.com/statistics/1108528/first-time-online-shopping-during-coronavirus-usa-gender/