Everyone is familiar with the many outdoor positioning and location services enabled through GPS satellites and imaging. Logging into an app can tell us when our food is about to arrive, how long our Uber trip will take, or help us to make our way to the nearest coffee shop.
Indoor positioning is much more complex. Following the pandemic, there has been a growing need for indoor location-based services in smart buildings. Companies have a pressing need to manage their facilities more effectively to reopen and better utilize them in the future.
However, it's not always clear which technology can achieve the same accuracy, efficiency, and experience that we've all experienced with outdoor navigation - but indoors.
Which technologies are available for indoor location services?
Like GPS, indoor navigation deploys positioning systems of sensors and technologies (e.g. Wi-Fi, Bluetooth, Thread, or Zigbee enabled devices) to locate objects in indoor environments.
To date, the most common (and most successful) indoor positioning systems have been enabled using Bluetooth (specifically BLE). Still, new kids on the block 5G and UWB have been receiving considerable attention of late.
Like Bluetooth and Wi-Fi, ultra-wideband (UWB) is a short-range, wireless communication protocol that operates through radio waves at very high frequencies. Because UWB uses larger channel bandwidth with short pulses, UWB can capture highly accurate spatial and direction data and track movements in real-time.
While it sounds like an ideal solution, there is a reason why UWB isn't as ubiquitous as you might assume. It's still a proprietary technology in its infancy, with no clear adoption path by major tech companies. In other words, very few personal devices are equipped with UWB technology.
Assuming that the average employee or visitor will not carry a device in their pocket equipped with the technology, it won't be feasible to deploy UWB-based navigation or other location-based systems.
There has been a lot of talk about 5GmmWave technology and its potential as an indoor positioning solution. 5G is deployed similarly to Wi-Fi but can transmit data at a prodigious 1.8GB per second. As a secondary function of 5G, it can pinpoint a device's location with an accuracy of a meter.
Unfortunately, there are a few limitations when using 5G indoors. it's challenging for mmWave to penetrate walls, even if carriers were to install mmWave base stations on the top of each building. Instead, a high-density private 5G network will have to be installed with smart cells (mini base stations) mounted in every room on every single floor, leading to extremely high infrastructure costs and scaling difficulty for a larger project.
Paul Dupont, VP of Technology Sales at Pointr explains why 5G is not yet the ideal solution for indoor location technology
The limitations of 5G and UWB perhaps best explain why Bluetooth technology remains the most efficient and popular indoor location tool on the market. It is accurate within one meter, affordable, and utterly ubiquitous. Bluetooth is the number one embedded technology of IoT devices. By 2025, nearly 6.4 billion Bluetooth devices will be shipped per annum. Virtually every mobile consumer device on the market has Bluetooth capabilities, making it a better enabler for indoor navigation and location services.
What are the use cases of utilizing indoor location services for smart buildings? How will it enable great visitor experiences and better operational efficiency?
According to Chuck Sabin of Bluetooth SIG, 80% of current Bluetooth implementations include elements of indoor navigation (including wayfinding and asset tracking). 66% are based in the retail space, while healthcare industry applications are snowballing.
The primary applications of Bluetooth-enabled Indoor Location Services are wayfinding, asset tracking, and analytics.
Paul Dupont of Pointr and Chuck Sabin of Bluetooth SIG explain the use cases of Bluetooth in indoor locations
What is the future for location services, Bluetooth technology, and smart buildings?
The next iteration of Bluetooth technology will see the addition of distance measurement to the Bluetooth location services portfolio, according to Chuck Sabin of Bluetooth SIG.
While RSSI signals enable devices to determine whether an object or point of interest is nearby, angle of arrival/departure direction-finding can pinpoint the direction to move in to find the point of interest, distance measurement will determine how far away an item is.
Chuck Sabin of Bluetooth SIG discusses the future of Bluetooth
The addition of a distance measurement specification will see Bluetooth-enabled indoor location services deployed with even greater accuracy and a better user experience.
That's not to say that 5G won't play a role in indoor positioning in the future. It is likely that Bluetooth, Wi-Fi and 5G (the three most commonly deployed IoT technologies) will be used in combination to produce the most accurate, efficient indoor positioning systems on the market in the near future.
Chuck Sabin of Bluetooth SIG and Paul Dupont of Pointr answer whether users should invest in Bluetooth rather than 5G
Bluetooth is a highly versatile radio wave. Rather than deploying individual, siloed solutions, Bluetooth enables an ecosystem of solutions. A company that installs smart lighting for more efficient energy use can easily add hardware and a third-party solution to enable asset tracking or indoor wayfinding. There is no reason to replace an entire system when it can be adapted or implemented to achieve even better results.
Future-proofing is the reason why Pointr has firmly remained both hardware and software agnostic. We have spent years researching and developing highly scalable indoor location and mapping solutions using various technologies and tools.
While Bluetooth is currently the most scalable, available, and effective solution, Pointr remains ready to adapt and adopt new technologies to achieve our mission: providing the most accurate and scalable indoor location positioning system to our worldwide customers.
Get in touch with our team today to get a demo of our technology.
---
Interested in finding out more? Sign up to watch our on-demand webinar with Bluetooth SIG for free.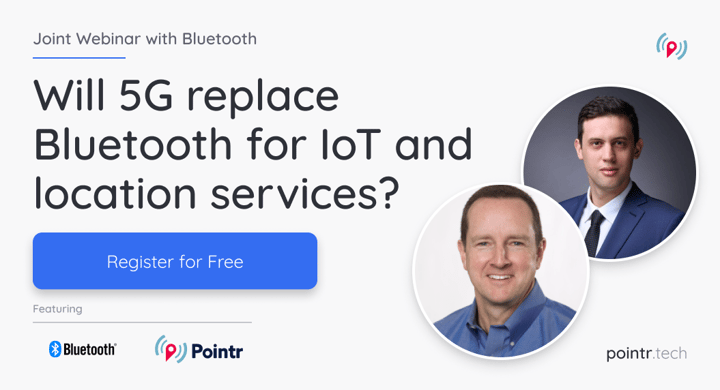 Related topics: