Hilmi Ozguc joins Pointr as a board member as the company experiences huge traction globally for its indoor location platform
Pointr is on track to double revenue in 2021 as it recently became the preferred partner of some of the largest technology companies globally, including Cisco, Siemens, CBRE, ISS, Extreme Networks, and more.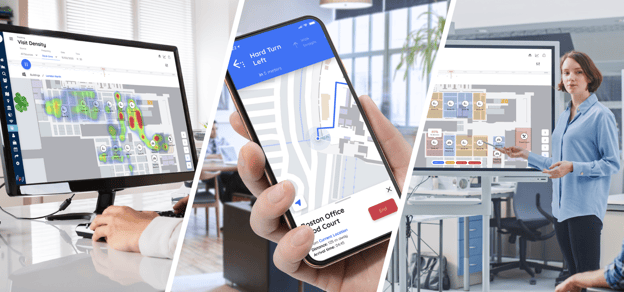 Boston, MA, May 20, 2021 — Pointr, a global indoor location technology firm, announces that Boston-based tech veteran Hilmi Ozguc joined the company as a strategic board member.
Hilmi has been a successful tech entrepreneur and CEO for the past 25 years, having founded and led three groundbreaking software companies worth over a quarter billion dollars at exit. Hilmi's most recent company, Swirl Networks, aimed to reinvent the consumer retail shopping experience through an indoor location-based software platform.
"Pointr has been on a steady growth track and has become a leader in indoor location technology," said Hilmi Ozguc. "My role will be to lend my many years of experience in the U.S. software ecosystem to provide mentorship and guidance as Pointr scales rapidly. I'm particularly excited about the applications of Pointr's technology for commercial buildings. I see Pointr's Deep Location® platform being deployed in every office building, in every corner of the world."
The appointment comes as Pointr has seen accelerated demand in recent months for its Deep Location® platform that supports indoor positioning, digital mapping at scale, wayfinding, real-time occupancy counts, visitor flows, and geofencing.
Ever since Pointr's first deployment in the U.S. 4 years ago, the company has secured high-profile contracts across 50 states with customers ranging from the largest US retailer chain to Fortune 500 companies and the U.S. Department of Homeland Security.
It recently became the preferred indoor location provider for some of the largest technology and real-estate companies globally, including CBRE, the world's largest real-estate manager, Siemens, ISS, Cisco, and Extreme Networks.
"We are excited to welcome tech veteran Hilmi Ozguc to the team. Hilmi represents another key U.S. appointment for Pointr at a critical time of growth and expansion for the company. Hilmi's expertise will be invaluable as we scale to become the go-to company for indoor location globally. We have the advantage of a scalable technology platform that is high-performance and fully automated", said Ege Akpinar, CEO at Pointr.
About Hilmi Ozguc
Hilmi Ozguc is a Boston-based tech entrepreneur and CEO with over 25 years of experience, having founded and led three groundbreaking software companies worth over a quarter billion dollars at exit. These startups spanned location-based and mobile technology, B2B enterprise software, SaaS cloud services, ad tech and digital media, and were backed by leading venture investors including Accel, Greylock, General Catalyst, Softbank and Hearst.
Hilmi has been named CEO of the Year by Mass High Tech, is a frequent speaker at industry conferences, and has been featured in Business Week, CNBC, CNN, The New York Times, and The Wall Street Journal. Hilmi holds a bachelor's degree in Systems Engineering and a master's degree in Software Engineering from Boston University.
About Pointr
Pointr is a global leader in indoor location. Pointr's Deep Location® software technology uses machine-learning techniques to create the best performing and the only scalable indoor location technology available today. Deep Location® enables location-based services such as digital mapping, navigation, location tracking, geofencing and powerful location-based analytics. We work with major customers in retail, smart workplace, aviation and hospitality across North America, Europe and Asia. Find out more at www.pointr.tech