Earlier this year, global retailer Walmart announced its intention to introduce mandates for radio frequency identification technology (RFID), which would see selected suppliers include RFID tags on their products by September 2, 2022.
When Walmart first toyed with the idea of an RFID tag mandate in 2005, the retailer was arguably ahead of its time. RFID tags were 80% more expensive than they are today, and massive improvements have since been made in the quality of the tags, their accuracy, the adhesives used, and more. If Walmart's mandates are implemented successfully, RFID may be as commonplace as barcodes in our retail stores.
There are many reasons retailers would consider RFID tags in their stores. Walmart stated that they believed that inaccurate stock numbers negatively impacted customer satisfaction levels, and RFID goes a long way towards solving that issue.
RFID tags enable regular, time-efficient cycle counts. They remove stock inaccuracy (from 70%/80% to 99%) and improve item visibility by accurately mapping and digitizing inventory, which in turn improves replenishment and inventory control between the backroom and sales floors. We've written a full guide to how RFID works within a retail environment that you can read here.
Since the announcement, other big-name retailers have started experimenting with RFID, including Best Buy, Home Depot, Tesco and Metro (in Europe), and Target.
Where Do Retailers Go From Here?
RFID is an exciting technology. While most retailers have honed in on the supply chain and inventory management benefits, there are client-facing benefits inherent to the technology as well - benefits that could very well revolutionize the customer experience and stock fulfillment efficiencies.
RFID tags indicate that an item is in stock in a specific store. Adding a simple product location layer on top of your existing RFID system can help employees pinpoint where that item is being held within the store. Here's why that's a game-changer: Many retailers created a multi-channel system during the pandemic. Walmart already has an existing pick-up system whereby customers order groceries online and pick them up in-store. However, stock visibility in stores (especially warehouse-sized mega-retailers like Walmart) is limited.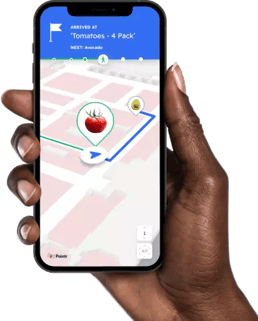 As one retailer recently put it, "Sometimes a customer buys a blue T-shirt online and wants to pick it up in-store. As a store manager, I don't know where the T-shirt is, and we've got an hour or less to find it. The customer can see that the shirt is available via the web or app, but we don't know where it is."
As customers continue to use physical retail stores as fulfillment centers for their online orders, store managers and employees need to know where their stock can be located at all times.
Integrating with Location Tech
Integration is not as difficult as it may seem. If you have the right indoor technology partner and a digital indoor map of your environment, you can be up and running in a very short time.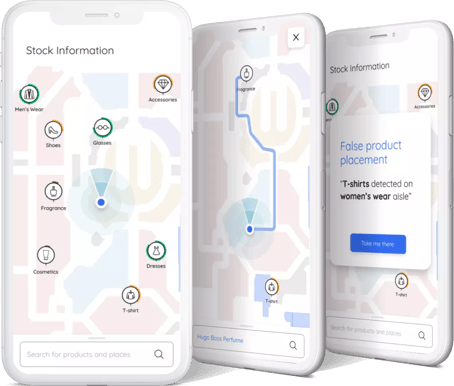 A fully functional product location system comprises four elements:
Handheld RFID devices, like Zebra or Honeywell
RFID tags
RFID inventory intelligence software, like Sensormatic Truview
An indoor mapping and location solution, like Pointr
Once RFID tags are in place, handheld RFID readers are used for data-capturing, updating, and tracking inventory throughout a store. The benefits of RFID and readers are well-documented in environments like hospitals and warehouses that use this technology to track valuable assets. You can use RFID printers, readers, and labels to ensure that your inventory accuracy is maintained at all times. Nothing is more frustrating to a customer than paying for an item online, traveling to a store to pick up an item, and finding it's not available after all. Better inventory accuracy can alleviate that friction.
Learn how retailers are delivering world class experiences for their customers with Pointr's guide to Store Mode.
Inventory accuracy is further enhanced and enabled by TrueVUE, a cloud-based solution that links store data, tasks, and staff to manage inventory on the floor. It counts stock rapidly and accurately. Dashboards make it easy to update information and assign tasks with real-time event notifications.
Lastly, an indoor mapping solution will digitize the map of the shop floor across all levels, which is then used to locate products inside the store. With RFID tags and AI-driven product location tech in place, these maps are automatically updated without manual input. If a display or aisle moves, the map will accurately reflect the change. By integrating with a retailer's existing Sensormatic app, the entire product tracking process is as seamless and non-intrusive as possible. There is no need to invest in a new application or additional hardware.
Many retailers are already actively exploring product location solutions in-store. Big-box retailers and retail innovators have already approached Pointr to see if we can resolve some of their inventory location and tracking issues. The ones that get it right first will have a considerable edge over their competition.
Indoor location technology will be a critical component to building the store of the future.
At Pointr, we are well-positioned to solve those product location challenges. If we consider the impact that outdoor location technology like GPS has had on our world, the opportunities for indoor location technology within the retail space are limitless. For now, we can already empower retailers with the data they need to create personalized experiences, digitizing stores and reducing stock inaccuracies.