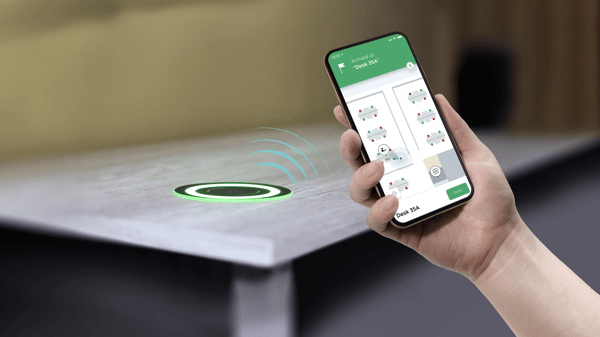 Pointr leverages Chargifi's sensors to enable wayfinding, geofencing, location analytics inside buildings.
Boston, London - November 4, 2020 - Pointr is proud to announce our brand new collaboration with leading cloud management platform, Chargifi, to help workplaces become COVID-safe. By combining our Deep Location® services with Chargifi's smart workplace technology, we create smart buildings that help employees easily identify and locate safe workspaces. Occupancy data helps optimize space vs capacity by combining both occupancy data at a macro building level and at a hyperlocal workspace level. These data insights are helping workplace leaders make smarter decisions about how to comply with government guidelines and regulations.
Trevayne O'Brien, Head of Partnerships at Pointr, said "We are pleased to welcome Chargifi to the Pointr Partner Ecosystem. This partnership allows Pointr to leverage a new type of Bluetooth hardware, with the bonus of workspace specific benefits for both employee experience and employer space optimization, to support our growing customer base. The Chargifi solution is a perfect fit across a number of sectors we already operate within, such as corporate real-estate and hospitality."
Anthony Fulgoni, EMEA Sales Director at Chargifi added "We look forward to working closely with the Pointr team to create COVID-safe buildings and workspaces that enable higher levels of employee confidence through visual communications, and also drive space optimization and safe experiences through our touchless technology."
Our new collaboration offers customers the following services:
Touchless workspace interaction
With Chargifi's touchless technology, employees simply place their phone to check-in or reserve the desk. This eliminates the need for physically touching the screen to minimize the risk of cross-contamination. It also gives essential occupancy data to ensure Real Estate is optimized and to improve resources availability for employees.
Clear visual communication with Chargifi LightRing
When a desk has been cleaned the Chargifi LightRing will turn green, implying 'green is clean' and safe to use. Conversely when a space is not safe to use the LightRing will turn red, so it's always clear which spaces can be used. When this is deployed across every desk, employees can then easily see across the office to identify which desks are available, giving the confidence they need to feel safe in their workspace. Combined with Pointr's smart wayfinding solutions, this helps employees find their way to COVID-safe spaces by leveraging Chargifi's built-in Bluetooth beacons.
Contact tracing and replay paths
Our new collaboration also gives workers the opportunity to anonymously trace and notify the people who have been close by to a co-worker who has tested positive for COVID-19, which can ensure that those who are at risk of infection are notified quickly without interrupting normal business practices. Using Pointr's maps and indoor positioning technology, building managers can also drop a pin on a location that has been in contact with an infected person and create replay paths of that person's movements so that the cleaning team will know which areas need particular attention.
Safe distancing with geofencing and occupancy management
Chargifi and Pointr's technology is also able to ensure that social distancing guidelines are being met at all times while ensuring business operations can run smoothly. The technology can notify employees when a desk is occupied or if they are sitting too close to another person. The desks can also be set with predetermined work patterns e.g. where every other desk is occupied to enable 2m/6ft distance working. This not only helps with social distanced working, but also allows desks to be 'rotated' for cleaning.
Groups of desks that are either not to be used or are in need of cleaning will be identified via Pointr's location-based notifications and made red for clear visual identification that the desks are not available for use.
Using Pointr's dashboard, building managers can set an occupancy limit for each building or zone level and trigger alerts if there is a danger of overcrowding. Chargifi's hyper-local occupancy data can be used to identify usage patterns and optimize the use of the spaces.
Safe Wayfinding
In order to help your business set up a one-way route for foot traffic, Pointr's customizable wayfinding technology helps employees and visitors find their way to an available desk or the closest meeting room. Routing can be customized for one-way only or to avoid specific zones if they are being cleaned. Pointr's innovative technology leverages the Bluetooth beacons inside Chargifi's devices to provide accurate indoor positioning and wayfinding.
Zonal analytics and congestion monitoring
Using Pointr's heatmaps and location-based analytics technology, building managers are able to see which areas in the building are the most congested at certain times of the day and how long they are congested for in order to maintain social distancing. Employers are also able to use this combined data from each platform to implement schedules to stagger the arrival and departure of employees in order to minimize congestion.
If you're interested in working towards a COVID-safe building using our state-of-the-art technology, don't hesitate to get in touch with our team of experts here at Pointr today and we'll be happy to answer any questions about our services and our new collaboration.
---
---
About Chargifi
Chargifi is leading the way in smart, cloud-connected wireless charging for business. We deliver a market-leading cloud-management platform that enables businesses to meet the rising demand for wireless charging from their guests, customers, and employees. Our patented solution turns wireless power into a service that adds real value for businesses and provides a unique value exchange opportunity for a true customer-centric experience. Chargifi, now deployed by over 200 organizations in 21 countries, works with all types of wireless charging technology, and we are members of both the Wireless Power Consortium and the AirFuel Alliance.