In this article, we explain:
How smart hospital navigation can improve HCAHPS scores and reduce no-shows
How UCHealth deployed indoor navigation across their healthcare campus
The healthcare industry has experienced unprecedented disruption in the last two years. Virtual care, digital health and service delivery, and telemedicine advanced rapidly in response to the global pandemic, but perhaps the most jarring (and long-lasting) impact of COVID-19 was its effect on patient satisfaction and expectations.
Patients' perceptions of various healthcare facilities have declined, with a 4.5 per cent decrease in patients' likelihood to recommend a hospital they've visited. Modern patients are used to rich and dynamic customer experiences from virtually every service provider they engage with, including banking, retail, restaurant, and travel. Considering the environment healthcare providers operate in, patient experience (PX) isn't just defined by the clinical care received anymore.
A Better Patient Experience, an Improved Bottom Line
"Businesses have gotten creative with service delivery. They've successfully identified stressors and touchpoints that cause friction for customers and changed their model to provide a smoother experience," says Jeff Kay of Pointr. "Healthcare organizations have realized that they need to follow suit, and fast."
Like many industries, customer satisfaction directly impacts the profitability of a healthcare business. The Hospital Consumer Assessment of Healthcare Providers and Systems (HCAHPS) survey evaluates key elements of the patient experience in hospitals and provides an overall patient satisfaction rating. This rating not only affects a facility's reputation among consumers but can limit the amount of funding received from Medicare. Nearly $2 billion in financial support is made available annually, while low-scoring facilities receive financial penalties.
"Patients are "shopping" for healthcare the same way they do for everything else," says Kay. "They understand their options and evaluate providers using online reviews, just like they do when they're deciding which hotel to stay in or restaurant to order from."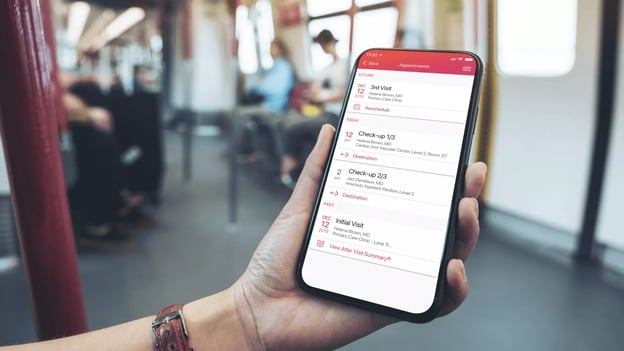 According to the 2021 Press Ganey Consumer Trends Report, 84% of patients would not visit a referred healthcare provider if they had any rating below four stars and more than half use the web to find a primary care provider. Patients also view customer service (70.8%) and communication (63.4%) more highly than bedside manner for a positive 5-star experience in a medical facility.
This is where an often overlooked technology can make a world of difference, says Kay. Deploying indoor navigation within hospitals can improve communication, reduce patient stress, and save millions of dollars in revenue lost due to missed appointments.
A Secret PX Weapon
Visiting a hospital campus is an inherently stressful experience. "If you look at it from a patient's perspective, you may already arrive nervous about the physical appointment or procedure. You could be worried about contracting an infection or illness during your stay. You might not be feeling your best or have limited mobility. Then immediately, you are faced with a sprawling parking lot and multiple buildings with multiple floors and confusing numbering systems. Even if you've been to the building before, rooms may have shifted due to COVID protocols," explains Kay. "You could spend ten minutes driving around looking for parking and even longer looking for the room you're meant to be in. Front desk staff are probably not present because of the pandemic, and the staff that are present are too busy to point you in the right direction. It starts feeling like a negative experience, long before you've even met your healthcare provider."
These navigational issues have a surprising impact on your bottom line too. A standard hospital loses up to $240,000 per annum due to no-shows. It's even more challenging for patients to reach appointments at a large campus that can span millions of square footage.
Utilizing location technology to guide patients' movements as they arrive not only reduced missed or late appointments but provided a dramatically improved customer experience.
Kay asks that you reimagine the experience with mobile, digital wayfinding in place, directing patients to their appointment from the minute they arrive via your hospital's mobile app. "Immediately, you are directed to an available parking space closest to the entrance. If you require wheelchair assistance, staff can be alerted and meet you where you are. You'll receive a welcome notification immediately when you arrive and step-by-step turn by turn directions directly to your physician's consulting room or the appropriate waiting area. The app can also direct you to points of interest, like bathrooms, elevators, cafeterias and prayer rooms. The hospital can also use trigger notifications to remind you of healthcare protocols that might be in place or to share tips and advice that can make your visit more pleasant."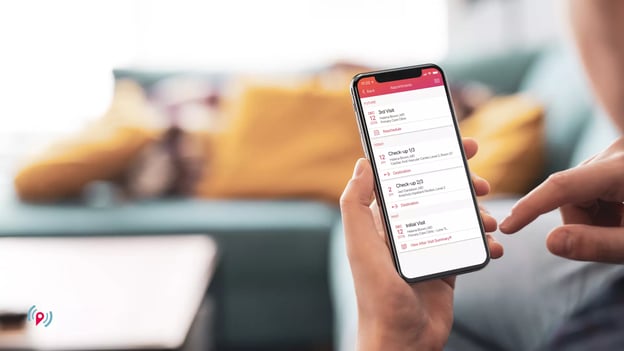 Indoor location technology in a nutshell
GPS is probably the most pervasive location technology in the world, but because it relies on satellite technology, indoor or underground deployment isn't feasible. Indoor digital wayfinding uses Bluetooth beacons available in Wi-Fi access points, smart lighting, occupancy sensors or deployed as a standalone to interact with mobile devices, which generate an accurate blue-dot indoor position. The technology becomes a powerful communication and direction tool when used with digital maps, analytics, and geofencing.
"Once the patient has completed their hospital visit or stay, their mobile phone can trigger a geofenced notification asking the patient to rate their service and receive real-time feedback used to mitigate any negative experiences and make improvements for the future," says Kay. "There's constant, instant communication, which can create an extremely positive brand image for the hospital, without requiring intensive staff investment."
Wayfinding and digital mapping have already been deployed at the UCHealth Campus in Colorado, a complex environment comprising 12 buildings with more than 60 stories across 2.5 million square feet. These buildings house different specialities, consulting rooms, wards, libraries, teaching facilities, parking lots, and during the pandemic, outdoor triage facilities.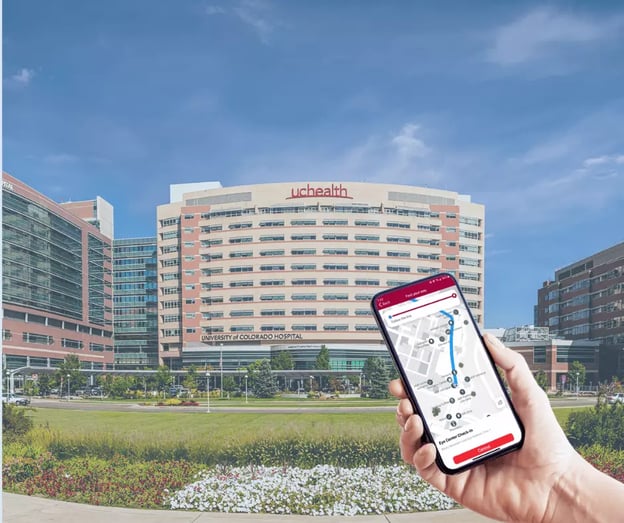 "The app not only guides our patients here from their home, but once they arrive at the hospital, they can find their way around inside. The multiple buildings and clinics can often be difficult for our patients and visitors to navigate. This app is like Google Maps for indoors – patients will follow a line with a blue dot navigating them to their desired location. We wanted to offer this innovative tool and continue to make an extraordinary experience possible for our patients," said Manny Rodriguez, Chief Marketing, Experience & Customer Officer for UCHealth.
Wake Forest in North Carolina and Redmond Clinics have also started deploying indoor location technology in their buildings.
"When we talk about patient experiences and technology, most people think about contact centres, patient portals and bedside manner, but a truly comprehensive patient experience strategy has to consider all of the touchpoints - even the ones that patients have to navigate on their own, without making contact with staff," says Kay. "Digital wayfinding and location technology can improve the patient experience and their overall satisfaction, automate communication and direction to free up your staff and provide analytical insight and instant feedback so that your facility can continually improve over time. Customer service and a positive patient experience become part of your hospital's DNA, with minimal effort."
If you're interested to deploy digital wayfinding in your health system, please contact our team