In retail, app fatigue is real. 77% percent of consumers keep just five or fewer retailer apps on their mobile phones at any time. So how can retailers ensure their app is used by shoppers?
App Clips are a great way for customers to preview new apps in a low-friction, low-obligation way. App Clips are "mini-apps", streamlined versions of iPhone apps that don't require downloading and provide on-the-spot solutions. They are activated by scanning codes.
Surveys have shown that 71% of consumers are 'very interested' or 'interested' in mini-apps.
In this article, we discuss:
What App Clips are and how they work
The benefits of App Clips for shoppers and retailers
How to improve the user experience in physical stores with App Clips
App Click FAQ (how are App Clips different from Instant App? What are the technical limitations of App Clips?)
What are App Clips, and how do they work?
App Clips are slimmed down versions of iPhone apps that can be accessed instantly without a potentially large, time-consuming download from the App Store. App Clips were originally introduced as a way to save iPhone users from clogging their phones up with apps they may only need once or twice - for example, a parking app for a foreign country.
However, retailers now realize the potential for App Clips to act as a gateway introduction to their app. An example would be offering an in-store voucher via an App Clip, meaning the user can better understand the benefits without needing to go download the full app. App Clips then offer the user the opportunity to download the full app once they've experienced these benefits.
For an App Clip to exist, it needs to have been incorporated into the main app by the app's developers, so many apps don't have an App Clip equivalent.
App Clips in retail: low friction, instant value
Retail apps can be extraordinarily valuable as they enable easier communication with customers and enhanced customer loyalty, with app users tending to purchase more frequently. If brands can quickly demonstrate initial value via App Clips, they can increase the chances of a user downloading their app and unlocking the above benefits.
App Clips provide instant in-store access without downloading the full app. Users can launch App Clips through triggers like a QR code, an NFC tag, an iMessage or text, a Safari app banner, and even a map. This means App Clips are quick and easy to access by all shoppers, even if they don't want to download a full app.
Learn how retailers are delivering world class experiences for their customers with Pointr's guide to Store Mode.
Improving the user experience in physical stores with App Clip
How can retailers use App Clips to show value to shoppers and entice them to download the full app?
Show coupons on an interactive digital map
Coupons or special deals are the most wanted feature from retail apps, with 87% of consumers saying that would encourage them to download a retail app.
With App Clips, shoppers can save their coupons and view them in-store on a digital map to get the right products easily.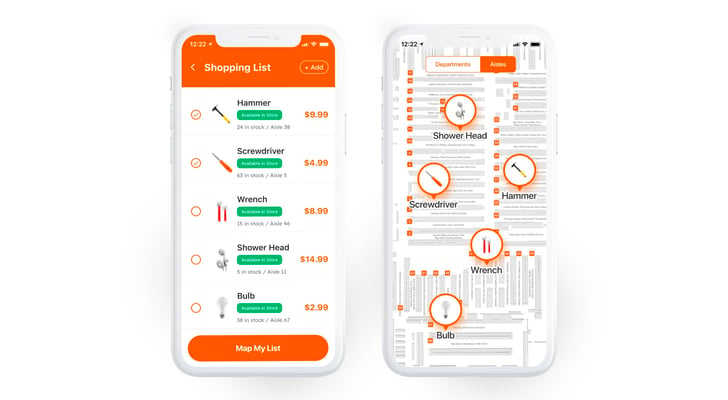 Show product information on a map with App Clip
When arriving at the store, shoppers scan a QR code and get instant product information - price, stock availability. They can add their items to a wish list and see all their products on a map inside the store.
MIAM fashion brand in Helsinki is piloting a shop window App Clip interaction (using the Pricetap App):
Show pairing recommendations
When scanning a QR code, shoppers see suggestions on how to pair the item, for instance a leather jacket, with the right shoes and accessories. They can view item pairings on a map to see where they need to go next in order to get a "full look".
Add products to a wish list
When in-store, shoppers can add their products to a wish list and see it later on to purchase on the go or find it again when they come back to the store. Users can share their wish lists via App Clip links that can be shared in Apple Messages and opened in Safari.
App Clips in Retail: Frequently Asked Questions
At Pointr, we work with some of the largest global retailers. Here are some of the questions we frequently hear when it comes to App Clips in retail.
What's the difference between Apple App Clips and Android Instant Apps?
The main difference between App Clips and Instant Apps is access - while Instant Apps are accessible on the Google Play Store, App Clips function independently from the App Store. They allow users to do things quickly, such as scanning a QR code at a shop and instantly being able to view product information. That means there are more options for users to discover and interact with App Clips.
What are the technical limitations of App Clips?
App Clips are a much smaller version of fully fleshed-out apps. They are limited to 10MB so they can load and run instantly. If the app seems useful, the user will have the option to download the full version at any time and switch to it.