Pointr is partnering with smart parking solutions provider INDECT to reduce the stress and hassle of parking at and navigating airports. In this post, we'll tell you how we're working together and walk you through an example of the partnership in action from a traveler's perspective.
About INDECT
INDECT designs, manufactures, and services the world's most innovative parking guidance software and systems.
INDECT's extensive research into parking has evolved a seemingly simple concept into a comprehensive customer experience. INDECT deploys sensors that individually monitor whether each space in a parking facility is occupied. They then use this information to display the best real-time guidance on smart signs, guiding travelers to empty spots. This makes getting in and out of parking garages much quicker and easier.
Their tailored solutions accommodate the unique characteristics of each parking garage, using specialized sensors, customized wayfinding signage, and versatile interfaces. Their offerings include accurate guidance, license plate recognition, car locating, integrated video surveillance, reservation capabilities, and customizable signage, ensuring optimal parking solutions.
INDECT serves airports, hotels, entertainment venues, hospitals, shopping malls, city garages, colleges, and business campuses.
How we work with INDECT
Pointr and INDECT work together by seamlessly integrating their cutting-edge smart parking guidance systems into our industry-leading maps and wayfinding solutions. The result? Intelligent parking and wayfinding solutions specifically designed for airport apps, offering passengers peace of mind throughout their journeys. Whether it's finding a parking spot at the airport or ensuring they reach the correct boarding gate, we've got every step of their travel covered.
INDECT simplifies the process of finding an available parking space within the airport's car park, accessible through signage or an app. Once the car is parked, Pointr's technology comes into play. Passengers can leverage the "Mark my car" feature to mark their parking spot on their app, making it easy to find their car when it's time to head home. The journey within the airport is simplified as well, thanks to easy-to-follow maps and turn-by-turn wayfinding provided by Pointr.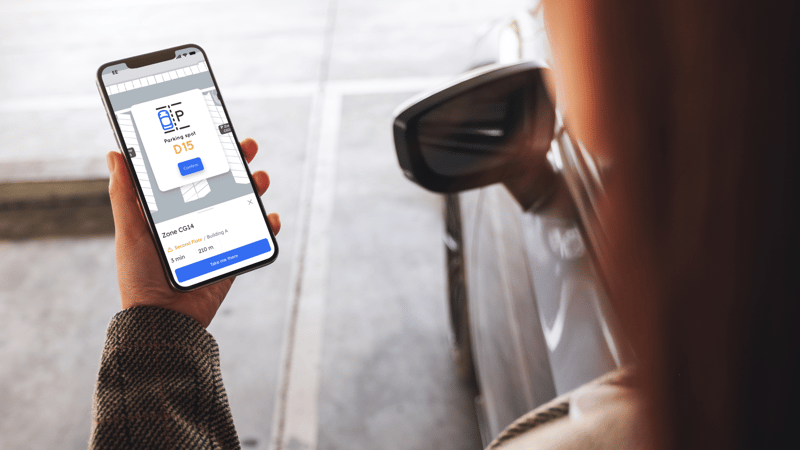 Pointr's "Mark My Car" feature is your trusty companion for stress-free parking. With a simple tap, it records your car's location using our precise positioning system. Say goodbye to searching for your vehicle in large parking lots – "Mark My Car" guides you straight to your parked car with ease.
Pointr has a proven track record of success at 25 international airports, including renowned hubs like Boston Logan, MWAA, Dubai Airport, and London Gatwick. We've achieved this by harnessing the power of AI-based automatic mapping through our MapScale® solution. This, coupled with our seamless indoor location capabilities, eliminates the need for on-site training and calibration. What's more, our solution is not only easy to set up but can also be deployed at scale in a short time.
"We're on a mission to transform the airport travel experience. By merging Pointr's advanced maps and wayfinding solution with INDECT's smart parking system, we aim to ensure that travelers enjoy a seamless and stress-free journey, starting from arrival at the airport until they head back home," explained Patrick Murphy, VP of Partnerships at Pointr.
A day in the "Airport of Tomorrow"
Traveling through a sprawling airport can be an exhausting experience, no matter whether traveling for business or pleasure, internationally or domestically. Together with INDECT, we've transformed this experience with innovative smart parking and location services.
Imagine your journey starting when arriving at the airport; there's no need to hunt for a parking spot; simply follow INDECT's smart guidance system to the closest open parking spot upon arrival. With Pointr's location systems, you can conveniently mark your parking location directly on the airport map within your app, ensuring a stress-free return to your car when your journey comes full circle.
As you step into the airport, the process of finding your check-in counter and navigating through security becomes more manageable. Keep an eye on your app for a push notification that prompts you to leave the departure lounge and make your way to your gate for boarding. When it's time to return, Pointr's wayfinding takes the lead, guiding you to your baggage and helping you find your parked car, while INDECT's smart parking guidance system ensures a smooth exit from the car park. It's like having your own personal airport assistant, designed to reduce stress and make your airport journey as hassle-free as possible, from the moment you arrive at the airport to the time you return.
Say hello to stress-free parking and smooth voyages from your doorstep to the departure gate, thanks to Pointr Maps and INDECT's parking guidance system.
Summing up
Picture a travel experience where you seamlessly navigate from the moment you drive to the airport through parking, check-in, security, and to your gate with remarkable simplicity. The collaborative efforts of Pointr and INDECT are transforming this vision into reality, creating a genuinely hassle-free and smooth airport journey.
This collaboration offers benefits beyond just those for passengers, as it has a significant knock-on effect on airport operational efficiency. It streamlines passenger wayfinding, reducing congestion and ensuring smoother passenger flows. As passengers are efficiently guided to their baggage and parked cars, airport resources are allocated more effectively, reducing wait times and enhancing overall airport efficiency.
With Pointr's location technology, airports can also gather valuable anonymized passenger data, including where they go and what they interact with, providing airports with valuable insights with which to refine marketing strategies, improve hospitality-related revenues, and elevate the overall passenger experience.
In essence, this groundbreaking partnership isn't solely about enhancing accessibility in airport travel; it's about making the journey more enjoyable and efficient for passengers while optimizing airport operations. Welcome to the future of airport travel, where everyone can enjoy a seamlessly managed and delightful experience.