In modern workplaces, every minute counts. Never before have businesses been so acutely aware of the minutiae of what goes into creating and maintaining a happy, motivated, efficient workplace.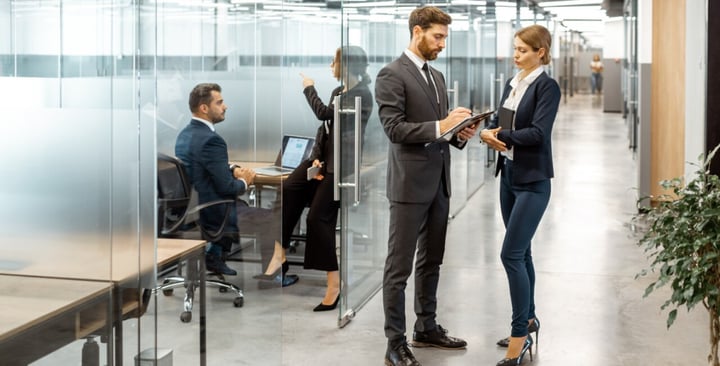 The rise of the smart workplace has helped drive this charge towards better understanding workplaces and how they can improve productivity and employee welfare. The smart workplace revolution has taken many technological forms, from the foundational change to the small quality of life improvement. One of the most ubiquitous improvements has been the rise in meeting room booking systems.
Many will empathize with the sort of scenario that has led to meeting room booking systems becoming so popular. You finally corral everyone you need for a particular meeting, find a time that works, and arrange to convene at a specific room, only to then find it already full of people from an earlier, over-running meeting. Before you're able to find another available meeting room, half of your meeting attendees have to return to other commitments, and all that's been achieved is wasted time.
Room booking systems are designed to alleviate these issues, but they come in a variety of forms which will suit different businesses to different degrees. Here's our guide to what you need in place in order to achieve a successful meeting room booking system.
An all-access calendar
One of the most fundamental needs for a meeting room booking system is a clear, collaborative calendar system that lets anybody who might be trying to book a meeting see, at a glance, which rooms are booked and when. Some companies attempt to manage this system via spreadsheets, but the bigger the company is, the more ungainly this solution becomes - all it can take is one person entering a date or time in a different format, forgetting to fill out the sheet, or accidentally overwriting another entry and the whole system can break down.
A collaborative calendar or dedicated room booking software is an excellent way to mitigate these problems. Some companies are nowadays going so far as to electronically lock meeting rooms to everyone but those listed as attending a particular meeting, to avoid rooms being occupied by people who haven't booked, and to ensure all employees utilize the booking system.
Want to learn everything there is to know about indoor mapping? Download our guide.
Real-time data
Of course, not every meeting can be booked weeks in advance. One of the biggest motivating factors in employees returning to the office post-pandemic is the opportunity to collaborate face-to-face with their colleagues. As such, many meetings can be arranged and conducted in an ad-hoc fashion. For some companies and meetings, the fixed calendar isn't always practical.
In these scenarios, real-time data is invaluable. The ability to see wh vich meeting rooms are occupied, along with information about the capacity and facilities available in each meeting room (such as accessibility and technology available in each room), will vastly enhance the efficiency and experience of any business that makes regular use of ad-hoc meetings.
Indoor maps
Of course, in order to truly enhance the real-time data experience, enabling employees and guests to visualize the placement of different meeting rooms in an office is an invaluable resource. The larger the office, the more helpful an up-to-date indoor map of the workplace is. After all, the benefits of a swift, easy-to-use, and effective room booking system are negated if, after booking a room, you discover it's a 10-minute walk away on the other side of your office or in a different building entirely. This is particularly true given the post-pandemic rise of hybrid and co-working offices (which now include more than 60% of businesses), where employees make use of hot-desking and, as such, may be less familiar with their office surroundings.
| | |
| --- | --- |
| | Indoor maps enable employees and visitors to find the best possible room based upon where the majority of meeting attendees are based and helps to resolve issues of smaller meetings over-booking larger spaces. |
Indoor positioning
The next evolution from an up-to-date indoor map with real-time location is a fully-fledged indoor positioning system. With this, not only will meeting bookers have the ability to see which room they should book based on the real-time location of other attendees, but they can also leverage indoor navigation to help fellow attendees take the most efficient route to the meeting room, alerting them when they need to leave to get to the meeting on time, as well as re-routing them should the location of the meeting change when they're already on their way.
An accurate indoor positioning system truly represents the next quantum leap forward in smart workplace technology, empowering employees and visitors to the office like never before.

If you think your workplace is ready to embrace the huge potential of indoor location, why not contact us today to see how Pointr can make a difference for your business?