Create a great customer experience and boost sales with AR
Practical ways AR can be used in businesses today
What makes for a successful AR experience?
Two years after the phenomenal success of Pokemon Go, gaming company Niantic has unveiled "Harry Potter: Wizards Unite", a geolocation-based mobile game that immerses users into the Wizarding World using Augmented Reality. Like Pokemon Go, the game allows users to walk around discovering magical creatures, casting spells, interacting with friends or enemies. Using the camera on their app, users move into an AR experience to blend the game world with the real world.
The success of such immersive experiences shows how AR is fully embraced by consumers, making its way into more of our day-to-day lives. With an unparalleled level of interaction, Augmented Reality surpasses other technology innovations in maintaining excellent user experiences.
Businesses are slowly starting to catch up, unveiling new ways to engage with customers using Augmented Reality. So how can businesses use AR to drive value and improve customer experience? What makes for a successful AR experience?
Create immersive experiences with AR
Augmented Reality gives businesses a great opportunity to get customers involved, create an enjoyable experience and ultimately build an emotional connection with the brand.
When traveling in an unfamiliar place, wouldn't it be nice to have guidance at your fingertips? At airports for example, travelers are often stressed out about being late, missing their plane or getting confused about what to do next.
AR technology revolutionizes the passenger experience by making the journey seamless, interactive and simple. Airports are able to show travellers a way to a needed gate, baggage carousels, check-in desks, specific food or shopping outlets.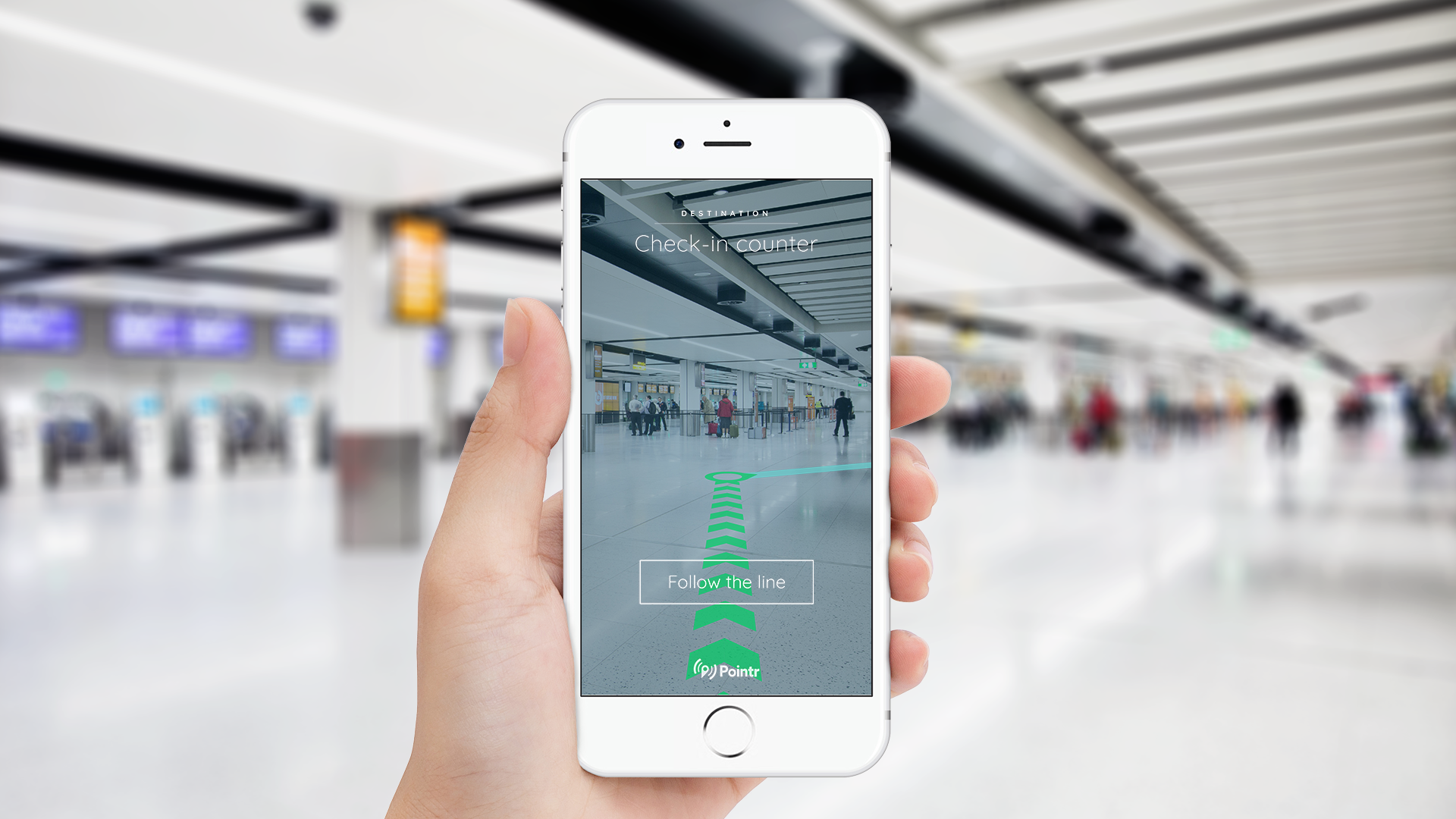 AR Powered by Pointr
AR enables travellers to point their phone at a sight to get information and find their way through unfamiliar places. They even have the ability to translate information into their own language by scanning the signs at airports or train stations. Meanwhile, hotels can use AR to provide guests with digital overlays containing interactive information about the heritage or history of the local area, or enhance their advertising with immersive videos.
Retailers are also leveraging Augmented Reality to connect and engage with shoppers. Consumer brands have rolled out apps that let consumers virtually try on clothing, makeup, and accessories. Furniture shopping experience is also made simple with AR technology that helps shoppers transform their homes into virtual showrooms.
Retail brands across the globe are just touching the surface of Augmented Reality to create delightful customer experiences. Location-based AR is the next big step, allowing brands to tie exclusive AR experiences to a specific location and reward consumers for visiting their store.
How to build a successful AR experience
Behind the obvious success of every Augmented Reality application, there's a lot of hard work. At Pointr, we believe that the core of a good AR experience is great design and accurate location technology.
Since AR is brand new, there isn't yet a commonly accepted design language for it. Companies like Pointr are creating new design paradigms which are intuitive and easy for users to understand. Those should overcome existing technical, sociological and physical challenges.
For instance, it's uncomfortable for users to hold their phones upright for more than a few minutes. Users naturally tend to hold their phone downwards. To solve this issue, designers can choose to take an adaptive approach that matches user behavior. Pointr created specific AR elements that guide users to their destination even when they hold their phone down.
An alternative approach to AR design is to gamify the experience. Everyone likes to play games, especially when it involves innovative technology. This gives an incentive to users to hold their phone as required without losing their focus. For instance, when guiding users through a space you could allow users to score points and compete with others.
Example of a gamified AR wayfinding experience
Get the location tech right
You can have great designs, but if the visuals aren't contextually relevant it will create a frustrating experience for users. That's why the core of a good AR experience is getting your location right.
That is where we come in. At Pointr, our team of computer scientists and machine-learning engineers have built the best performing indoor location technology available today.
By combining accurate location technology and great design, we are leading the way with AR & indoor location experiences for venues of different sizes and complexities.
Are you as excited as us by the possibilities of AR to improve customer experience for businesses?