Passenger numbers are continuing to soar as smart airports take off.
Last year Airbus estimated that air traffic would increase at 4.4 percent every year for the next 20 years1. More passengers means more pressure on airport infrastructure, despite the fact that many have space limitations and can only expand so far. From a management and retail perspective, it's more important than ever to find solutions that will keep airports running smoothly.
Without being able to analyze factors such as passenger flow and crowd density, airports can become overcrowded, stressful spaces that discourage travellers from making the most of the numerous retail and food and drink outlets.
Passenger growth offers a fantastic opportunity to boost non-aeronautical revenue. However, without the tools and technology to support increased passenger numbers, airports will be left grounded. Smart airports need to be more efficient, and capable of providing world-class customer experience.
That's where analytics can help.
Smart airports wired with analytics tools are more capable of dealing with increased passenger numbers. They can help airport management and retailers transform a challenge into an unrivalled opportunity - more travellers could boost spending in duty-free and restaurants.
Keeping track: Location-based analytics
Analytics play a key role in smart airports. They can take the hassle out of data collection and make it possible to effortlessly capture a wide variety of valuable data based on location. Forget clickers and clipboards - Pointr's location-based analytics uses indoor positioning technology and heatmaps to capture anonymous data about crowd flow and density. Analytics allow oversight of day-to-day airport management as well as offering the ability to think about longer-term data trends. A simple, intuitive dashboard makes it possible to instantly view data spanning a wide range of metrics.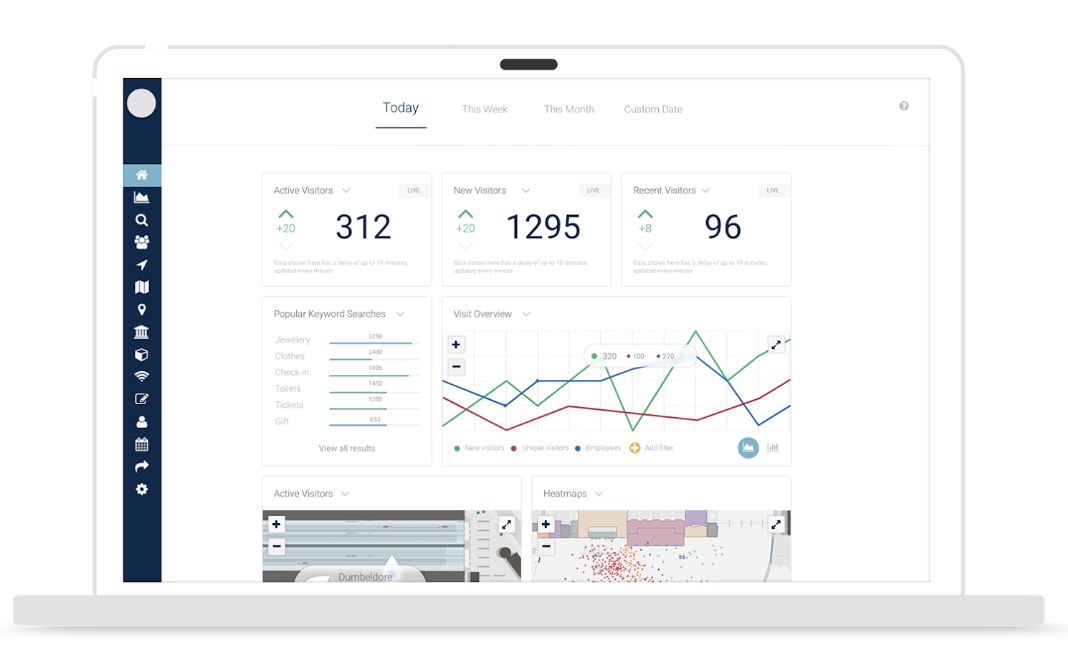 Location-based analytics has other benefits that go beyond capturing headcounts. Want to check how a retail outlet is performing at different times of day? Perhaps you'd like to know which food and drink outlets are busiest on weekends, or how many passengers are waiting near a specific gate. Pointr can help create tailored, rich data visualisations. These will make it easier to map out a strategy to ensure a retail space is delivering the best possible returns.
As the saying goes, what gets measured gets managed.
Analytics: Waiting in line for efficiency gains
Even the smallest logistical delays can result in disruption and a backlog of customers queuing at security, waiting at check-in desks, or searching for trolleys. With Pointr's smart airport analytics these hold-ups will be a thing of the past, even as air traffic continues to increase.
Pointr's analytics offers airport management the ability to react to real-time data and ensure that resources are being allocated intelligently. Crowd analytics makes it easy to check the passenger density in a specific area so that queues are kept to a minimum. This has security implications too, and Pointr has been working with the US Department of Homeland Security, applying a range of analytics technology to encourage efficiency gains at major US airports.
Another area where efficiency gains can be boosted by location tech is customers arriving late to their gate. In the pre-smartphone era it would have been easy for a passenger to head through security and lose track of time while browsing duty-free. With in-app notifications, Pointr can make sure passengers know exactly when they need to leave to make sure they're in time for their flight. Intercom "last calls" for late passengers are set to become a thing of the past.
Customer Experience: Less stress means more spending
Location based technology isn't just about data collection. It can also be an intelligent way to improve customer experience. When it comes to maximising non-aeronautical revenue, it makes sense to ensure that customer experience is a top priority.

Passengers can benefit from in-app location technology from the moment they arrive at the airport. When they park their car, the precise location is saved on the app so that they can find their car easily later on. Using Pointr's navigation tools, passenger are then able to find their way to check-in, past security and to their gate.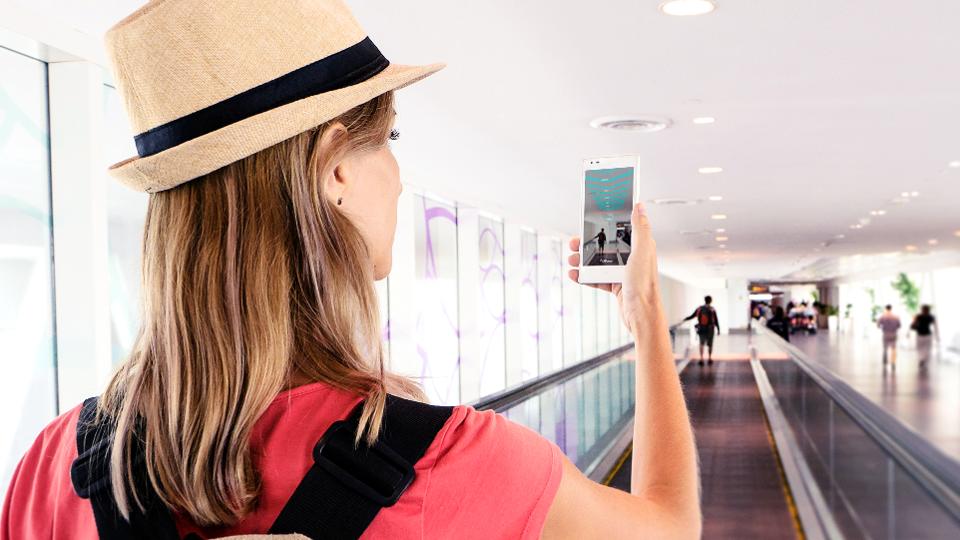 For many passengers, stress and uncertainty around navigation can have a negative impact on customer experience, and leave them with less time or inclination for retail.

Pointr can be tailored to offer specially designed routes to assist disabled passengers or people flying with children to ensure a more enjoyable, stress-free customer experience. Lost luggage could soon be a thing of the past, too, as Pointr is exploring ways of tracking baggage as another way of improving customer experience.
With navigation assistance and an in-app notifications to remind passengers when they need to be at their gate, there's more chance they'll take the time to browse the duty-free and maybe even grab a quick bite before their flight. And as research suggests, being relaxed has a positive impact on consumer behavior - relaxed passengers are likely to spend more.
Case studies
Pointr has been successfully working with London Gatwick to harness analytics as a way of improving efficiency and improving non-aeronautical revenue. The UK's second largest airport sees 43.1 million customers annually and is likely to see increasing numbers of travellers in the near future. Pointr worked with airport management to install 1,800 beacons throughout the premises to offer a range of analytics services - from location-based analytics that help gather anonymous data on crowd flow, to navigation services that include augmented reality to help customers find their way to their flight.

Gatwick have seen improved levels of crowd flow and have managed to cut down on the time passengers spend queuing for security, searching for trolleys, and looking for their gate.
Analytics isn't just about crowd flow, however, and has implications for retailers too. Pointr enables retailers at airports to engage with passengers thanks to contextual messaging.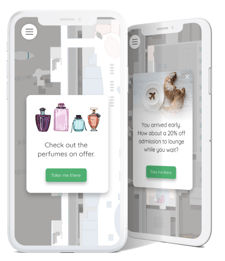 Contextual messaging allows retailers to send personalized notifications to passengers' smartphones telling them about promotions in their vicinity, based on their preferences. Being able to pinpoint your customer in a crowded retail landscape is the first step towards being able to offer them the products they really want. Smarter advertising leads to better revenue.
Pointr: Smoother travel from check-in to take-off

As increasing passenger numbers continue to put pressure on aviation infrastructure, analytics can play a pivotal role in the future of smart airports.
Pointr's technology is already making a difference across 13 major wide range of airports, including London Gatwick, Dubai International and Airports of Thailand, and is set to be rolled out across a number of major US airports in the near future.
Location-based analytics, location based services and marketing can have a dramatic impact on operational efficiency and duty-free revenue. However, analytics is about more than data analysis, targeted marketing and intuitive indoor navigation technology. It's also about ensuring that smart airports are providing passengers with a seamless, enjoyable customer experience, from check-in to take-off.