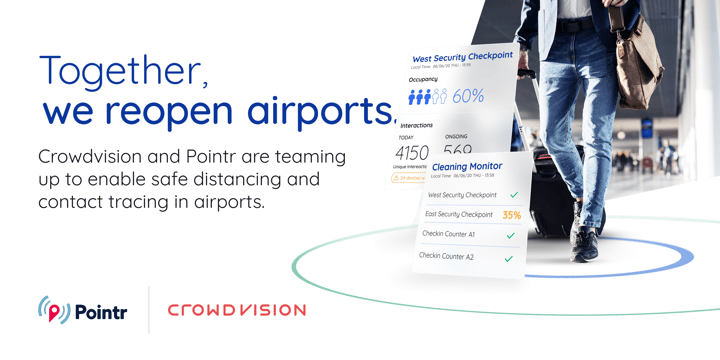 CrowdVision and Pointr are teaming up to enable safe distancing and contact tracing in airports.
"We're combining our two platforms to create a 'safe return to airport' solution with contact tracing, and to provide insights regarding occupancy and congestion. This gives airports a tool to bring passenger confidence back and improve safety around the terminal. We're expecting a lot from this new partnership", says Trevayne O'Brien, Head of Partnerships at Pointr.
"Airports face an enormous challenge in supporting physical distancing. To manage congestion, they need accurate, timely data. We're excited to partner with Pointr to enable proactive solutions to reduce crowds and to make reopening strategies more effective", says Stuart Mills, Chief Operating Officer at CrowdVision
Prepare for safe return of passengers
According to the data from the Transportation Security Administration of the U.S. Department of Homeland Security, passenger numbers have decreased by more than 50% compared to last year, see Fig. 1.
Fig.1: Statistics show that passenger numbers have decreased by more than 50% compared to 2019. Source: TSA, U.S. Department of Homeland Security
To restore passenger confidence in traveling through airports again, many passengers will expect airports to do more to reduce the spread of the virus and minimize overcrowding at security checkpoints and boarding gates.
Large international aviation hubs such as London Heathrow airport have implemented short-term solutions, such as manual contact tracing, as part of their return to airport strategy. Manual contact tracing and unnecessary paperwork could cause longer queues and increase the workload for staff. To give an example in the real world, each passenger arriving at the Heathrow airport has to fill out a contact tracing form and health questionnaire by hand. Should a passenger fail to do so before arrival, it would cause long queues at the border checkpoints and increase congestion within the terminal.
How can technology companies such as CrowdVision and Pointr help make airports pandemic-proof, reduce costs, prevent incidents, and ensure safe distancing at airports?
These measures include immediate notifications to reduce the risk of spread and avoid unnecessary escalations during queuing. Switching to digital solutions can remove further congestion, save costs on daily operations and provide safer travel experiences for passengers.
Can technology make airports pandemic-proof?
Safe distancing, contact tracing and "touchless" technologies are being introduced to airports in the face of the COVID-19 pandemic. Here's how Pointr and CrowdVision can help.
Safe distancing

- With CrowdVision SafeDistance, airports can monitor queue density and congestion data to manage bottlenecks, queues and visitor flows in specific zones. With

accurate data on visitor flows, queue times and passenger journeys, airports can efficiently manage the 6ft/2m separation between visitors and passengers at the airport.

CrowdVision SafeDistance also allows you to understand the Exposure Risks when visitors are detected to be within the recommended separation boundaries




Virtual queueing

- By combining queue time data from CrowdVision with location data from Pointr, passengers get real-time updates on queue times at security or check-in. Depending on processing capabilities and wait times, airport operators can enable virtual queuing with pre-booked time slots for security or check-in at airports, rather than having to wait in line.

P

assengers can know exactly when they should proceed to the gate and join the queue.




Digital contact tracing

- This reduces physical paperwork, allowing airports to implement safety measures efficiently.

It logs device to device interactions anonymously and notifies all those who have been in close contact without revealing any personal data

, in line with GDPR and personal privacy

regulations

.

To learn more about how Pointr's digital contact tracing works, watch our

video

in action.




Weekly Checkpoint Digest

-

CrowdVision provides a Weekly Checkpoint Digest report to enable airport operators to understand which areas have systematic problems. This weekly report will also provide a Safety Grade as a baseline

.




Cleaning monitor

- Airports can monitor where cleaners have been and how much time they've spent in each area with heatmaps. They can assign cleaning teams to the most congested area quickly, based on the

weekly checkpoint digest report

with the safety grade as a baseline. Passengers can view the cleaning heatmap for additional assurance.



Safe wayfinding

- Airports can guide passengers from their transit to check-in, security and all the way to their gate through the quietest and quickest route. They can create one-way routes around the airport dynamically with real-time updates in the background based on congestion data.




Handsfree shopping

- Pointr and CrowdVision give airports a tool to analyze the new shopping demography and behavior, enable location-based marketing, click & collect and concierge services

to bring back sales revenue quickly in a safe way

.

For example, passengers can order duty free or food & beverage directly via their smartphone. Their product can be delivered wherever they are at the airport. We've been working with Dubai Airport Duty Free to enable a VIP customer experience.
As airports are up and running, we provide a scalable solution to help airports ensure business continuity, reassure their staff and enforce compliance. By combining Pointr's FlySafe and CrowdVision's SafeDistance, we provide an aviation hub solution that enables safe distancing, virtual queuing, density management, safe routing and cleaning monitoring. The solution is compliant with all data privacy rules and can be rolled out instantly with no hardware required.
Pointr works with major airports including Washington's airports, London Gatwick Airport, Dubai International Airport and Airports in Thailand. We also work with US Homeland Security to deploy Bluetooth location technology in U.S. airports, improve customs and border control security and health safety for both passengers and airport staff. If you're interested in finding out how we can help please get in touch with us.
About CrowdVision
CrowdVision is a provider of actionable data and insights on people movement in venues such as airports. CrowdVision software accurately measures what is happening to customer populations in real time and over time. Key metrics captured include flows and throughputs, wait times and process times, staffing and resourcing levels, and crowding. This enables better planning and decision-making to assure safety, improve customer experience and increase efficiency and profitability. The CrowdVision solution processes signals from commercially available camera and LiDAR sensors and detects pedestrian movement automatically using computer vision and artificial intelligence techniques. Data analytics and insights are shared with users via alerts, dashboards, reports, and integrations to support decision-making and planning. CrowdVision SafeDistance provides measures of social distancing, including separation and exposure times. Live alerts can trigger interventions during operations to mitigate risk, and accumulated data helps identify opportunities for optimizing layouts, resourcing or processes. SafeDistance equips venue operators with the means to minimize the risk of contagion and enhance passenger and staff safety in their environments.
About Pointr
Pointr is a global leader in indoor location. Pointr's software technology provides highly accurate indoor positioning. Machine-learning expertise allows location-based services such as digital mapping, navigation, location tracking, geofencing and powerful location-based analytics. Pointr works with major customers in aviation including both of Washington's airports, London Gatwick airport, Dubai International Airport and airports in Thailand. We also work with US Homeland Security to deploy Bluetooth location technology in U.S. airports, improve customs and border control security and health safety for both passengers and airport staff.