Indoor location technology and its benefits have generated a lot of buzz lately. As an IT leader, you've probably thought about exploring the possibility of enabling indoor location tech at your facility/office buildings. The best way to get started is with a Request for Proposal (RFP).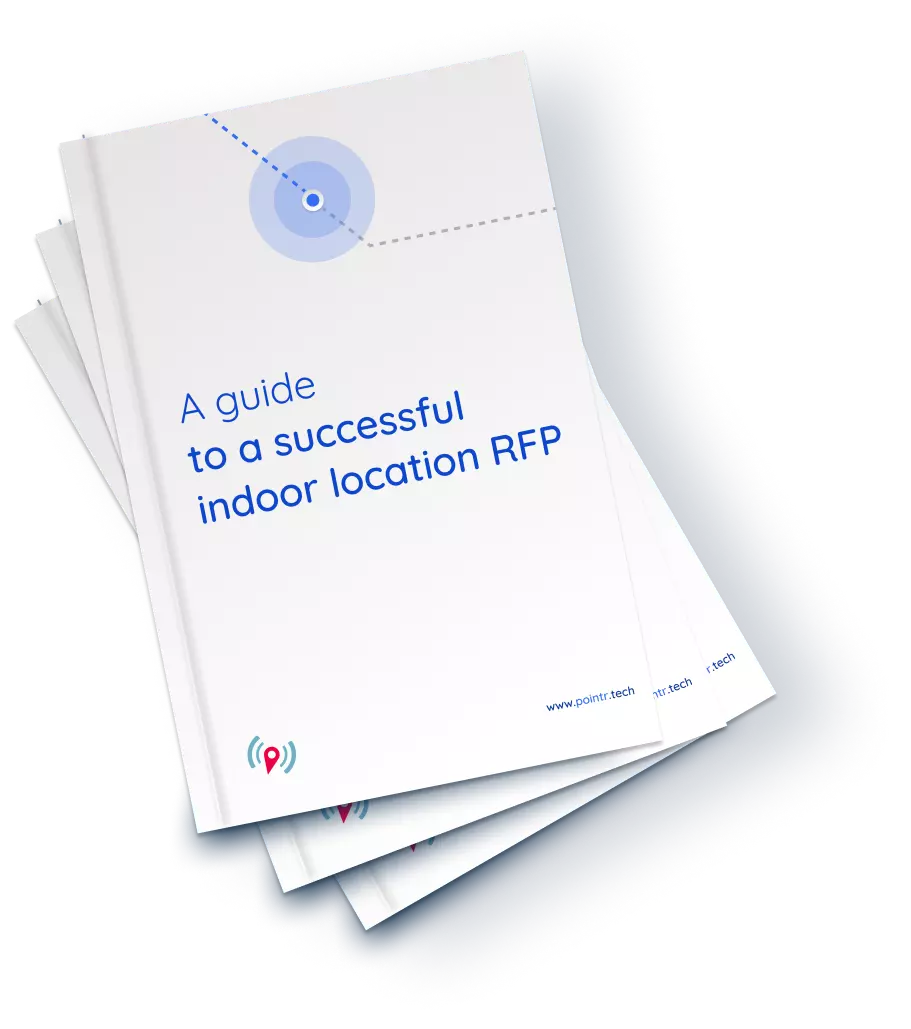 What Is an RFP?
An RFP is a document that businesses present to outline their requirements for a specific project. Your request for proposal allows you to solicit bids from qualified vendors, but it also helps you scope your requests and assess the backgrounds of the various vendors submitting their proposals.
It's a great way to determine what you need and set expectations early on in the proposal process.
How an RFP For an Indoor Positioning System Should Work
Indoor positioning uses Bluetooth technology or WiFi access points to accurately pinpoint a user's location in an indoor location. This can be used for indoor navigation and wayfinding, location sharing, analytics and contextual notifications, as well as a host of our services associated with smart buildings.
When you invest in this technology, you have to make sure that your vendors are able to deliver a seamless, accurate and low-maintenance solution in order to enjoy the full benefit of indoor positioning.
Your RFP checklist should include scoping the following:
Accuracy within 3-9 Feet
When you are navigating outdoors, a few feet won't make much of a difference. However, in a building where rooms and hallways are only a few feet wide, your entire experience is compromised by inaccuracies. The system should be able to detect and update the real-time location of the user within 3-9 feet as they move through the building.
Scalability
Indoor positioning starts with indoor maps. Sure, your vendor can map a building. Can they map multiple buildings across your campus? Can they map multiple campuses? In multiple countries? How quickly can they do it? Make sure your solution is scalable and fast.
Smooth Transitioning
Users should be able to seamlessly move from outdoor-to-indoors and vice versa, floor to floor, room to room, without jumps or lags.
Availability Offline
The system should work at full capacity without the need for an internet connection and regardless of the number of concurrent users.
Multi-platform, hardware and software agnostic
The system should take multiple devices and platforms into account and should be available on iOS (version 10.0 and later) and Android (version 5.0 lollipop and later). It should be hardware and software agnostic to cut costs and maximize existing infrastructure and technology.
Data Privacy Compliance
The technology should be ISO 27001 and ISO 27017 certified and protect the data privacy of the users in accordance with local legislation.
Robust
Software should always be optimized not to drain the battery of the user's phone, and hardware should be designed to last several years without calibration or modification.
Proven Solutions
Can the company back up their claims? Two-thirds of companies that implement an indoor location system will not utilize it fully because of jumpy blue dot positioning, inaccurate location data and a poor user experience. Make sure your vendors can back their claims with real-world case studies and battle-tested indoor technology to avoid ROI losses.
Support
Can the vendor offer support, both on-site and remotely? Restrictions are still a factor around the globe, and it's important to find a vendor that can offer support that meets your needs.
Questions You Should Ask Your Indoor Positioning Vendors To Create a Successful Indoor Location RFP
Many of the indoor positioning vendors can deliver indoor location hardware and software, but they fail to deliver the best possible experience for end-users. To ensure that your project is carried out successfully, you have to ask the right questions upfront and determine exactly what your requirements are.
Budget and Existing Infrastructure
Start with your budget. A good vendor will help you analyze the existing infrastructure and assets at your disposal instead of insisting on all-new purchases. This may include utilizing your existing smart lighting, app or WiFi access points.
Ultimate Goals
Your vendor doesn't expect you to understand the ins and outs of indoor tech, but you should provide them with a clear picture of your ultimate goals. What are you hoping to achieve by using indoor positioning? State your goals clearly. This could be reducing the number of ghost assets in the building, improving employee communications, adhering to capacity protocols or simply offering visitors an engaging experience. What does success look like in your world?
Deal Breakers
Sometimes the best way to get what you want is to state clearly what you don't want. What are your deal breakers? Privacy concerns, failure to deliver within a certain timeframe, difficulties with scaling, maintenance issues and lack of flexibility and customization are a few dealbreakers to consider.
Critical Questions
Here are a few questions you should be asking your vendors in order to inform your decision:
Are you able to utilize our existing hardware/software/app to maximize efficiencies and lower costs?
Are you willing to work within our budget?
Are you able to meet our goals in terms of timing and scale?
What will you do to maintain privacy and other compliance standards?
How will you evaluate success?
How accurate is the experience for end-users?
Can you transition from indoor to outdoor and vice versa without lagging?
Can you provide an example of a similar project you've completed?
The Pointr Difference
Pointr can help you achieve all of the mentioned requirements and more.
Accuracy: Location data is accurate within 3-9 feet of the user's actual position.
Scalability: Scalable and accurate mapping available in 2D/3D. Map multiple buildings across the world in days, not weeks.
Smooth Transitioning: Move seamlessly from indoor-outdoor locations and floor-to-floor.
Availability Offline: Pointr's system does not require a strong mobile phone signal or Internet connectivity to function.
Multi-platform, hardware and software agnostic: Pointr's technology is agnostic and can easily integrate with your existing infrastructure and software. It's plug and play!
Data Privacy Compliance: Fully compliant with privacy standards
Robust: Our solution is designed to minimize battery usage and requires minimal maintenance.
Proven Solutions: Our technology has been tried and tested by global customers, including Microsoft, Cisco, UCHealth, DHS and CBRE.
Support: Enjoy comprehensive, full support both on-site and remotely at all times.
Conclusion
When you are compiling your RFP, always ensure that you compile your checklist of must-have requirements that potential vendors have to meet. This includes accuracy, scalability, smooth transitioning, agnosticism and a proven track record.
Pointr's tech can be found across offices, healthcare campuses, retail buildings and aviation hubs. Our tech is fully ISO compliant and trusted by top brands across the globe.
Interested in finding out more? Download our guide to creating a successful indoor RFP, or speak to us about a live and obligation-free demo.