2021 was quite a ride at Pointr. We digitized 130 million sqft across 800+ buildings and we had the pleasure of seeing some amazing deployments go live, including the launch of our smart wayfinding technology at UCHealth and at West Kowloon Smart City and our new partnerships with Cisco and ISS. As we look towards 2022, our vision remains the same: create reliable, scalable, and intuitive location experiences that connect people with buildings.
We'd like to take a moment to reflect on some of our exciting deployments for 2021 and to share with you our wish list for 2022 - great buildings that we would love to digitize!
We mapped 2,000 buildings in weeks (and we launched 3D Maps)
One of the largest US department chain stores came to us with a question: how can we digitize all our retail stores across 2,000 locations within weeks? The answer is Pointr MapScale®, a machine-learning mapping technology that automatically converts thousands of floorplans into user-friendly digital maps in days rather than months or even years.
This year, we've gone even further and introduced a new way to explore buildings with gorgeous 3D maps that are rendered with geopositioning on a world map. This allows for a seamless wayfinding experience between indoor and outdoor locations, a must-have for large corporate campuses or hospitals with many buildings. Try out our 3D maps - pinch them, zoom in, zoom out, and let us know what you think!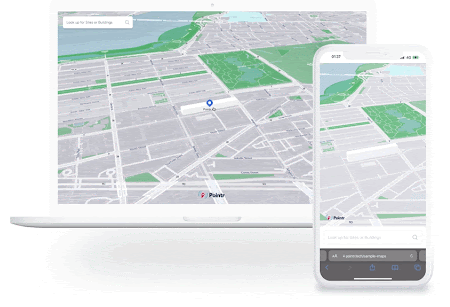 We formed a new partnership with Cisco DNA Spaces
Did you know? Cisco is present in 50% of North American offices. With our ambition to digitize every building out there, partnering with Cisco DNA Spaces was a natural match and we're excited to have made this a reality this year.
Today, every Cisco customer with Wi-Fi access points has the opportunity to enable a smart building experience with location services. There's no need to install any additional hardware. Together with Cisco, we've already enabled digital wayfinding at one of the largest East Coast healthcare networks.
Watch this space in the coming months!
We enabled AR Wayfinding for Hong Kong's Smart City project
West Kowloon is one of the largest cultural projects in the world, blending art, education, and entertainment. The West Kowloon District is set on the Hong Kong peninsula across 40+ hectares and encompasses a museum, numerous theatres, concert halls, and other performance venues.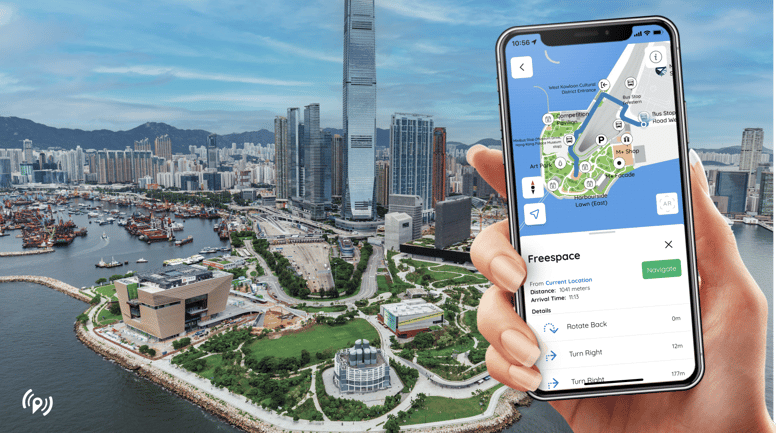 The District Authority selected Pointr to enable revolutionary AR navigation across the district, so as to provide unique visitor experiences where technology and art can meet. Due to the size of the site, the number of buildings, and architectural complexities, this project required the most complex indoor positioning and navigation system in the world. And we made this a reality!
This year, the West Kowloon Smart City App went live, allowing visitors to navigate between facilities easily, receive personalized push notifications, and explore the district using Augmented Reality.
Check out an overview of the project here.
Our 2022 Wish List of Buildings to Digitize
While we're very excited about what we've achieved so far, no year would be complete without wondering "what if?" We are just getting started on our journey to digitize the world. What if we had the chance to digitize some of the incredible buildings out there? Here's our wish list of buildings for 2022!
Henkel's Global Innovation Center in Düsseldorf

About the building:

Henkel's global Innovation Center for Adhesive Technologies, located in Düsseldorf, is a gigantic corporate campus encompassing over 50,000 square meters, providing office spaces for more than 350 workers. With the size of the campus, it is a challenge for visitors to get to the right places, people, and resources at work.

How we can add value:

Henzel has the opportunity to showcase innovative workplace technology with Pointr. Help Henkel employees and visitors navigate to the closest available meeting room or desk and allow them to share their live location with colleagues for ad-hoc meetings.

Walmart's new HQ in Bentonville

About the building:

Walmart is building a new home office located in Bentonville, Ark. When completed, it will be the largest mass timber campus project in the U.S., encompassing 350 acres.

How we can add value:

Walmart has already developed an outdoor map of their campus, but there's no indoor map or wayfinding available - yet! Pointr can digitize the campus within days to enable a smart wayfinding experience at the new Walmart HQ.

Roche's Smart Workplace in Basel

About the building:

By 2023, Roche's Basel and Kaiseraugst sites will have undergone renovation to enable Roche's vision for a modern, hybrid-enabled, and flexible workplace.

How we can add value:

High-accuracy location technology could serve as the foundation of the smart workplace vision for Roche's corporate campus. Within weeks, Pointr could make digital maps and wayfinding a reality for Roche by leveraging the Deep Location® technology.
To 2022 and beyond!
Pointr began in 2013 with the aim of solving a single problem: how could we enable positioning in indoor locations that GPS couldn't reach?
In the intervening years, we have built the first (and only!) indoor positioning and navigation system that was able to solve the key challenges faced by our major international customers: how to enable great location experiences in complex buildings, across thousands of venues, with very little maintenance.
2021 saw us continue to deliver best-in-class location solutions across an enormous range of clients. Our team has expanded significantly to a team with members across 13 countries. We've got 10+ new Fortune 500 customers, deployed across 40+ million sqft spaces in more than 20 countries worldwide.
As we move forward to 2022, our goal remains the same: enabling the future of smart buildings together with our valued partners and customers! We are already working hard on several exciting projects for 2022, so watch this space and get in touch if you're ready to see how Pointr can help you.
Have a warm and lovely holiday season, and let's look forward to 2022 and keep in touch.