Pointr announces the launch of an IoT solution to power smart factories, warehouses with asset tracking technology
The solution improves efficiency, output, asset management and safety in factories using IoT sensors mounted in lights and Pointr's Deep Location technology
Facility managers view the real-time location of equipment and people on a dashboard, which gives them clear operational visibility for immediate action
If you manage a manufacturing facility, warehouse, logistics center, or other industrial facilities, you know that smart asset management is critical to maintaining a successful operation. Knowing the location of valuable equipment cuts down on idle time spent searching and ensures facility managers can optimize the location of equipment at any given time. Knowing how often the equipment is being used and its location is the first step of knowing when the equipment needs maintenance to eliminate downtime in manufacturing.
An IoT solution for asset tracking, inside the lights
Pointr has deployed an innovative asset tracking technology that utilizes IoT sensors from hardware manufacturers and Pointr's Deep Location platform. The technology has already been successfully deployed at factories globally.

Workers and assets carry Bluetooth tags around the facility. The IoT gateways, which can be standalone or attached to lighting fixtures, pick up the Bluetooth signals broadcasted by the tags. Pointr's Deep Location platform uses each gateways' signal strength to compute the location for each tag. The technology then displays the location of assets and people on a map in an easy-to-use dashboard, allowing the facility managers to easily monitor their entire facility automatically, constantly - and remotely.

This new asset tracking solution is designed specifically for manufacturers to gain invaluable knowledge from insights that were previously impossible to unlock, then turn these data into action and rapid ROI for manufacturing operations.

Pointr's Deep Location technology can track virtually anything inside facilities and be deployed quickly across all sites. Its patented positioning algorithms enable high-accuracy positioning for increased asset visibility, alerts regarding status, reduced search time, and a reduction in the number of lost items. Pointr's asset tracking is also available without tags, using an in-app location system.
The technology is hardware agnostic, which means it can use any tag and any gateway with Bluetooth capability for real-time tracking. In fact, we partner with many hardware providers, including Cisco, Extreme Networks, Panasonic Lighting, and more.
Monitor assets in real-time in a dashboard
With Pointr's Deep Location platform, facility managers can unlock the following benefits in their factories:
Identify high-traffic areas, track assets, and get decision-making data

Monitor occupancy in the facility with locations counts workers in specific areas

Tracks goods as they travel between work cells for clear visibility into their location with zonal analytics

Monitor the real-time location of expensive equipment, such as forklifts; track vehicle traffic patterns

View the historical flow of a specific asset, with timestamps for entry and exit of assets in specific zones

Know the real-time location of workers (such as contractors)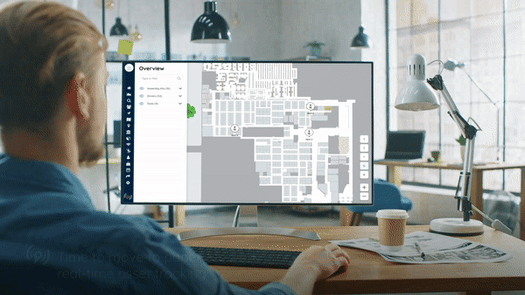 If you are interested in learning how you can make your smart factory a reality with asset tracking, please contact our team.
About Pointr
Pointr is a global leader in indoor location. Pointr's Deep Location® platform provides innovative location-based services such as indoor mapping, navigation, asset tracking and location-based analytics for enterprises with large, complex buildings. Pointr works with major customers in manufacturing, healthcare, workplace, retail and aviation across North America, Europe, Middle East and Asia.